Deep cleansing shampoo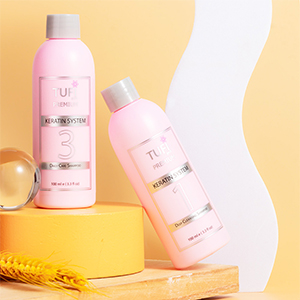 It has long been known that thick silky hair is not only the merit of nature, but also the result of careful care for them. Most of the fair sex choose deep cleansing shampoos for themselves. What is it and how useful are such care methods?
Shampoo Benefits
Regular exposure to dust, harmful precipitation and chemicals leads to the fact that the hair becomes limp and dull. The very structure of the hair undergoes significant changes, being saturated with harmful components and becoming weak. Deep Cleansing Shampoo is a kind of exfoliator that cleans all harmful elements from the hair scales.
Shampoo before keratin straightening is best used before medical procedures - masks, compresses or applications. By renewing the keratin layer as much as possible, it makes the hair more receptive to nourishing effects.
Most manufacturers that produce shampoo for deep hair cleaning before keratin straightening target both professional and general audiences. In the first case, the effect of the product will be more intense, the efficiency is higher, but the price of such a shampoo is somewhat higher than the average on the market. In most cases, such preparations are purchased by hairdressers who are able to carefully control both the correct application and the possible risks of using shampoos.
If your goal is just to freshen up your own hair a bit, you'd be better off buying a pre-keratin straightening shampoo from an amateur series. Despite the labeling, this tool does an excellent job with all sorts of harmful layers, thoroughly cleansing and renewing the hair.
Deep cleaning shampoos at home
It is no secret that before carrying out the keratin straightening procedure, it is imperative to wash your hair using a deep cleaning shampoo . This is necessary so that the keratin penetrates deeper into each hair and stays there longer. But for your own hair health, deep cleaning shampoos can be done on your own.
At the heart of any such shampoo are components that help wash out the dirt, dust and grease accumulated in the hair. In addition to all this, the shampoo should clean the scalp well from keratinized particles. In most cases, purchased deep cleaning shampoos contain components that make it impossible to use them every day.
Girls who quite often use styling products such as hairspray , foam , mousses, etc., first of all need to completely clean their hair from pollutants that make them heavier. With all this, purchased shampoos cannot always adequately cope with excellent hair washing. To do this, we have prepared some options for shampoos that you can cook yourself without leaving your home.
How to prepare shampoo?
Use baking soda to deep clean your hair. To turn your shampoo into a deep cleanser , all you need to do is add one scoop of baking soda to the shampoo you use at the time of washing your hair. This method is considered very effective, it is suitable for any type of hair. This method of cleansing shampoo is considered effective and at the same time it does not require a lot of expenses.
The use of salt. This method is also considered low-cost and quite useful. It is best to use salt not very large, and its very amount depends on the length and thickness of your hair. According to the reviews of girls who have done similar procedures for themselves more than once, it was concluded that two tablespoons of salt would be enough for short hair, but for long hair it would take at least five. The right amount of salt should be diluted with warm water in an equal amount and the finished solution should be applied to the scalp with massaging movements. This procedure is recommended to be carried out no more than twice a month.
Coffee. Using coffee is also a good option for cleaning the scalp. To do this, we need one tablespoon of ground coffee, which must be mixed with one serving of shampoo. Apply the resulting mixture to the hair and massage the head for 5 minutes. Wash everything off with water.
The use of henna. With the help of colorless henna, it is possible not only to cleanse the scalp, but also significantly improve the condition of the hair. In order for the effect to be even better, I recommend diluting henna not with ordinary water, but with a decoction of nettle or chamomile. The resulting solution is applied to the hair and scalp and left for an hour. Then wash off.
Eggs for deep cleansing hair. It's no secret that chicken eggs, or rather yolks, have always been famous for their excellent effect on hair. To cleanse the scalp, you can simply mix two chicken eggs with any essential oil and simply wash your hair with this mixture like a shampoo. After the hair will change its appearance, you'll see.
As you have already seen, cleaning your hair yourself at home is not difficult. Choose any of the recipes and experiment, your hair will not get worse from this.
How to apply shampoo
Professionals warn that deep cleansing shampoos are more like shock therapy, which should be used with caution. You should not wash your hair often with such products, constantly depleting your hair with an abrasive. 1 time in 7-10 days is the ideal interval of the treatment procedure. Owners of dyed or dry hair should be especially careful.
In the TUFISHOP online store you can also find everything you need for hair straightening (keratin) : masks , keratin straightening kits, keratin straightening irons , keratin and more. To order, you should visit our showroom or place an order online and our manager will contact you to clarify all the nuances. Come call us, we are waiting for you.
Frequently asked Questions