There are no products in this section
Hair dryer - a handy hair styling accessory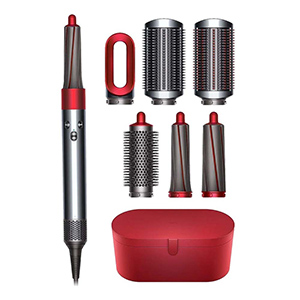 Hair dryer is a unique invention in the beauty industry that will help girls feel their best due to neat styling. If you need to give your hair volume, airy styling or beautiful bangs, then you will definitely like a hair dryer with a spinning brush and / or a hair dryer with a spinning brush . This device will be an excellent replacement for a classic hair dryer and brushing . A convenient and compact accessory can simultaneously dry your hair and create a beautiful styling, then you need to sprinkle your hair with varnish and you can safely go to conquer the hearts of men.
How to choose a hair dryer?
In order to correctly choose the diameter of the brush, it is necessary to take into account the length of the hair, the longer it is, the larger the diameter of the thermal stacker .
When choosing, it is important to decide whether it will be a hair dryer with a rotating nozzle or a rotating one.
The presence of an ionization mode is also important, because electrified hair causes a lot of inconvenience. The ionization mode will remove static electricity from the hair, and also make it smoother and more even.
The presence of several speeds and temperature conditions allows you to vary the time spent on laying.
The weight of the device is also important, because it is not easy to keep a heavy device in exquisite female hands for a long time.
Soft teeth on the brush do not damage the hair, do not pull out or tangle.
The main priorities when choosing:
Carefully evaluate the weight of the device, because it is you who will have to use it, the most important thing in this matter is that you feel comfortable and your hand does not get tired of working with a hairdryer brush. Therefore, before buying this tool, be sure to pay attention to this parameter.
Also, before buying, it is advisable to hold it in the rivers, and understand whether the hair dryer is comfortable in your hand. To ensure that the hair dryer does not slip in your hand, silicone inserts are provided on its handle, you should also pay attention to their presence.
Another of the necessary conditions is the convenient location of the function keys. It is very important to be able to switch the hair dryer to the desired mode without unnecessary efforts and movements.
It is also desirable to have a special loop on the brushes for hanging the device and a sufficiently long cord.
Functionality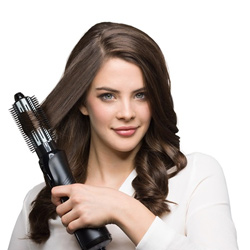 To create a beautiful hairstyle that will attract the attention of others, it will take 5-10 minutes, as well as a hair dryer brush and any means for fixing . With the use of such a nozzle, the accuracy of laying the strands increases, since you do not have to hold it on weight. Typically , a hair dryer comes with additional nozzles that can either straighten or curl curls. For example, a rotating hair dryer brush or with rotation. This process requires a little skill and attention, as you can easily tangle your hair. But still, this acquisition is much better and more convenient than using a comb and hair dryer separately.
An additional plus in using a hair dryer-brush is the ionization function. With its help, the negative effect of hot air on the hair structure is prevented, and a natural beautiful shine is given to the hair. Some manufacturers complete brush hair dryers with other nozzles, which gives this acquisition versatility.
Wavy Hair Dryer
A hair dryer with a styling brush is ideal for creating light curls. Also, with the help of this device, you can very quickly dry your hair of strong density and beautifully style your bangs. A hair dryer is indispensable for girls who have curly hair by nature: it will help to give a neat look to chaotic curls in a matter of minutes.
To do this, follow these rules:
Divide your hair into four even sections and leave wide strands near the forehead.
Twist strands of hair into small bundles and secure with hairpins to fix the desired shape of future curls.
Start styling by winding narrow strands on a hair dryer or use an automatic hair dryer with a spinning brush.
Having finished laying the strands near the face, proceed to the back of the head.
At the end of styling, spritz the curls with a styling spray.
Device material
A huge influence on the creation of hairstyles is influenced by the material from which the tool itself and its attachments are designed. Typically, the body of the hair dryer consists of high-quality plastic, it can be either glossy or matte. Therefore, the choice here is based on a purely aesthetic principle. With nozzles, the situation is much more serious, here you need to remember the little rules:
metal is not entirely useful for hair, so more expensive models are equipped with a tourmaline coating, which is gentle on hair and does not harm them;
ceramic coating softens the effect of hot air on the curls, distributing it evenly over the entire surface of the nozzle, thanks to which a brush made of such a coating will last a long time and dry hair gently;
It is best to choose a brush with natural bristles. This prevents the hair from splitting and generally protects them.
How to buy a hair dryer in TUFISHOP?
In our online store you can purchase goods without leaving your home, for this you only need to place an order on the website or by phone. You can not only buy a hair dryer with a rotating brush in this section, but also a hair dryer with a rotating brush , which will be an excellent hair styling accessory. You may also be interested in: clippers , irons , hair dryers and much more presented on our website. To order goods, you should visit our stores in Kyiv, Vyshneve, Vyshgorod, Irpen, Brovary, Sofiyivska Borshchagovka, or place an order online. We deliver goods not only throughout Ukraine, but also around the world. Call us right now! We are waiting for you!