There are no products in this section
Luxurious curls are the main weapon of girls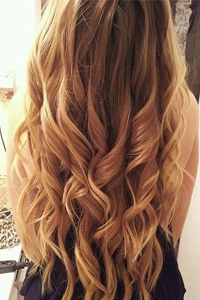 Curls are the dream of many girls, because they instantly make the image feminine and attractive. Each girl has her favorite hairstyles: someone prefers straight hair, someone likes a ponytail, and some are crazy about romantic curls. Each hairstyle is unique, but not every one is easy to perform. You can create curls in many ways: curlers , curling iron , ironing, but the most natural and embossed curls are obtained when wound on a cone curling iron .
How to make curls on a cone curling iron?
In order to make curls you need:
dry hair completely
divide the hair into separate strands and secure with clips;
it is necessary to start twisting the strands from the bottom, gradually rising up;
after, it is necessary to fix the hair with varnish
Curls are an excellent foundation for many complex hairstyles, because they will fall beautifully over the shoulders, giving the image of femininity. To create such beautiful curls, you naturally need a device such as a cone curling iron . Now this attribute is very popular among girls. After all, making yourself a beautiful and attractive hairstyle is now very simple, and most importantly, it will not take much time. Beauty salons also offer such a service as wrapping curls on a cone curling iron . Our store has a huge range of various flats from well-known manufacturers: BaByliss PRO, Kemei, MOSER, ERMILA and others. All of them are of high quality and affordable price for everyone.
How to choose the right cone curling iron
Of course, a lot depends on the choice of curling iron . It depends on how the hair will look, and how much it will succumb to the temperature of the curling iron. When choosing, we suggest considering the following recommendations:
for short hair, it is best to purchase a curling iron with a wide cone . For girls with long hair, narrower cones are also suitable.
it is worth buying only such a tool in which there is a temperature controller. Because each of us is different hair structure, then the temperature of the curling iron for each should be different.
if you want to experiment, then it is better to get a curling iron with different nozzles, so you can constantly do something new and change your style.
professionals recommend purchasing a hair curler with automatic shutdown. If we do everything in an attempt, then this function will simply be indispensable, because everyone can simply pull the curling iron from the outlet.
it is worth giving preference to conical curling irons with a ceramic surface, thanks to which the curls remain intact and healthy in appearance.
you also need to pay attention to the wire of the tool, it would be best if it can rotate 360 degrees at the base. It should also be long enough so as not to create discomfort during the winding of the hair.
there are still such models that give a signal that the curl has already warmed up, which makes it possible not to overheat the hair. But this feature is not required.
with the curling iron, a glove should be included with which it is possible to hold the hair on the curling iron and not burn yourself.
When choosing a hair curling iron for yourself, immediately look at special hair care products. Of course, if you do curls once a month, there will be nothing for your hair, but if you want to use the tool every day, you should take care of your hair.
Buy a conical curling iron in Tufishop?
Due to the modern pace of life, we often do not have time to take care of our hair and create wonderful hairstyles. But if you want to have amazing curls, then it is the cone curling iron that will help you with this. In order to buy a conical curling iron , you need to place an order on our website, after which we will deliver your order in the most convenient way. You may also be interested in: irons , hair dryers , diffusers .