Sets TUFI profi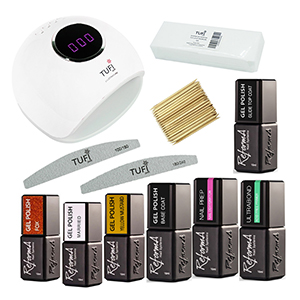 Ready-made solutions for your beauty! Luxurious TUFI profi sets are carefully assembled for you, taking into account a variety of trends and preferences. Sets are presented in such categories as:
Gift set for nail care
Hair sets
This greatly simplifies the process of selecting suitable products, as TUFI profi itself completes kits that will simplify the process of purchasing materials at the initial stage. Not everyone knows what is needed for the depilation procedure or what jars are needed to cover nails with gel polish. With ready-made sets TUFI profi you can easily pick up a ready-made set of cosmetics for yourself or as a gift.
Sets of gel polishes for beginners
You can always do a manicure at home. But the use of conventional means has long been out of fashion, because such coatings very quickly lose their beautiful appearance, with such a manicure you start to be afraid of any homework - what if it becomes less beautiful? An excellent solution, of course, can be the purchase of a set for gel polish and nail extension / strengthening. This is a novelty in the field of beauty, which will definitely leave you satisfied with your appearance.
Starter kits for gel polish and manicure are becoming more and more popular, since the application procedure itself is not complicated and, with the desire and time, any girl or woman can easily cope with gel polish at home. Also, a big plus of ready-made manicure kits is that you do not waste your time searching the entire site for what you need, plus the benefit, since the discount is already included.
Depilation kits - effective removal of unwanted hair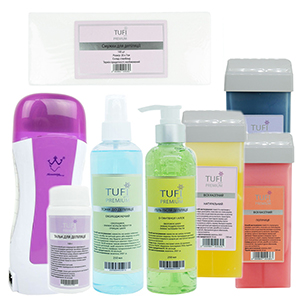 The problem of removing unwanted hair in different areas of the body is relevant among many representatives of the beautiful half of humanity. For its most effective and affordable solution, many use the method of removing hairs with warm wax, which you can do yourself. But for this you need to develop basic skills, as well as have special tools and accessories. Buying a wax depilation kit is a profitable and reasonable decision. It will allow you to qualitatively and relatively painlessly remove hairs, providing the effect of smooth skin for a long time.
Paraffin sets
Paraffin therapy is the best way to keep the skin young and elastic on the hands and feet. The most important thing for paraffin therapy is high-quality cosmetic paraffin, as well as paraffin melt to warm it up. You also need mittens and socks that will help keep the precious heat, which is very important in this procedure. To prepare the skin for the procedure itself, it is necessary to use special tools such as: scrub or gel exfoliant , nourishing mask and moisturizer. This SPA procedure can be carried out both in salons and at home, for this we have specially developed sets for paraffin therapy , which include all the most necessary components. Do not forget that this purchase will be not only useful, but also profitable, because there are always discounts on our sets!
Advantages of the paraffin therapy kit
If you do not know what to give as a gift, this set will be a great solution;
if you are just starting your way to achieving soft skin and do not know what components are needed for the procedure;
The kits include only the necessary products;
Purchasing a set will cost several times cheaper than buying each item separately.
Keratin straightening kits
The unfavorable ecological situation and stress affect not only the skin, but also our hair. To restore them, you need special kits for keratin hair straightening , including various shampoos and a keratin solution.
Penetrating deep into the hair, the keratin base heals the hair from the inside. That is why after the application of the preparations included in the keratinization kit , the hair becomes heavy and smooth, retaining this property for up to 6 months.
The TUFI profi brand makes all these kits based on the feedback and wishes of customers, as it not only wants the product to sell better, but also be useful so that even after buying the starter kit, the client can go to the product item page and find useful information there.