Craft packages for sterilization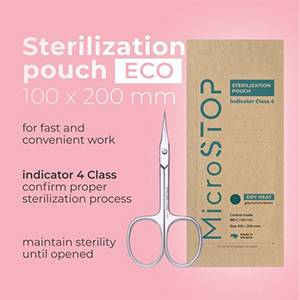 The prestige of a beauty salon, manicure or beauty parlor largely depends on the level of cleanliness and safety that they can guarantee to their customers. This applies primarily to ensuring the sterility of instruments used in procedures. In contact with the skin, hairline, they can, if not properly disinfected, become carriers of dangerous infections. Therefore, sanitary and hygienic standards require that they be thoroughly disinfected and treated not only with aseptic liquids, but also sterilized in an autoclave and dry-heat cabinets.
After each sterilization of instruments, they must be kept in perfect cleanliness; craft bags have been developed for this. They are also used when sterilizing instruments in special sterilizers. These kraft bags are very convenient for any kind of tools, due to the fact that they are available in different sizes. It is also worth noting that the packages are produced separately for dry-heat cabinets, autoclaves.
Sterilized manicure tools can be easily stored in a sealed kraft bag for up to fifty days, the main thing is not to break its tightness. These packages are very easy to close, as they are equipped with a special adhesive strip, with its help it is possible to close the package qualitatively and reliably.
What are craft bags for?
Kraft packages for sterilization , this is primarily the cleanliness and hygiene of a particular procedure. When performing a manicure, the craft package with sterilized instruments is opened in the presence of the client, so that the client immediately sees the quality of the instruments and their cleanliness. Remember that after sterilization, the instruments must be lubricated so that they serve you even longer than possible: the oil is considered harmless and does not violate the sterilization regime, but at the same time helps the instruments last even longer.
all packages are marked with a special indicator, with which it is possible to distinguish sterilized instruments from non-sterilized ones;
the valve of the sterilization bag is self-adhesive and does not require the use of additional equipment for hermetic sealing;
guarantee of preservation of sterility of instruments up to 50 days;
designed to meet all requirements and standards;
packages resistant to high temperatures, up to 180 degrees;
have an affordable price for everyone.
What is the best way to store sterilization bags?
it is best to store them in an unlit place, at a distance from heat sources;
in places where there is no moisture and dust;
carefully treats the packaging without damaging it.
Processing methods for manicure tools
We offer you three simple and visual methods for disinfecting manicure instruments: budget, classic and professional.
Instrument disinfection always consists of four steps: disinfection, cleaning, sterilization and storage. Here are the three ways we'll talk about.
the budget method is most often used at home, it requires minimal costs for the purchase of the necessary equipment, but at the same time it allows you to disinfect tools well.
classic way - used in beauty salons and manicure rooms. Moreover, this procedure also does not require a lot of costs for its implementation.
professional way - in this case, the processing takes place almost like in a medical mode. Of course, using this equipment is more expensive, but the result from it is better.
Budget. This method is not advisable to use in beauty salons, or in your own office if you have a large flow of customers. It is ideal for processing tools used at home. What should be done? Pour water into a container to sterilize, then add disinfectants , which one to use is up to you. Our site has a huge selection of different tools. The amount of the product to be used will be indicated in the instructions. You should always add disinfectant to water, vice versa. After, immerse the instruments in the resulting liquid and leave for 10-15 minutes. After this time, the tools must be washed under water using a brush and wiped dry. In general, this is quite enough for home disinfection, but if you have a desire to make the tools even more sterile, you need to place them in a craft bag and send them to a regular oven at a temperature of 180 degrees. If you exceed this limit in temperature, it is possible to damage the instruments. Store instruments in sterilization bags until next use.
Classic way. It involves the use of an ultrasonic bath. The tray is removed from the bath, it is filled with water and a sterilization agent. The instruments placed in the tray must be completely covered in liquid. Turn on the sterilizer and leave the instruments for 15 minutes. Then remove the instruments from the bath and rinse well with water. Dry. After the procedure, the instruments must be placed in the UV chamber and stored there until the next use. If you do not have the opportunity to purchasea UV camera, you can use craft bags or any box that is hermetically sealed.
Professional way. As in the classical method, you need to place the instruments in a solution with a disinfectant and wait 15 minutes. Rinse with water afterwards and dry well. Here, all the points remind us of the previous ones, but after the second step, you need to place the tools in a craft bag and send them to a dry oven. Set it to the desired temperature and wait 1 hour. This equipment is simply necessary for salons with a large flow of customers. After all, all instruments must always be in a sterile condition. Store sterilized instruments in the kraft bag until the next use.
Kraft packages for sterilization buy?
Want to buy a craft packages? Then the online store https://www.tufishop.com is at your disposal or visit our store in Poland in Warsawa. We offer a huge variety of products for sterilization: sterilization containers, sterilizers, hand sanitizers and much more. We work only with trusted suppliers, so that all goods are of high quality. To order, you should place the product you like on the website or visit our showroom in Warsawa. Call us, we are waiting for you!
Frequently asked Questions