Manicure and pedicure sets
Manicure and pedicure sets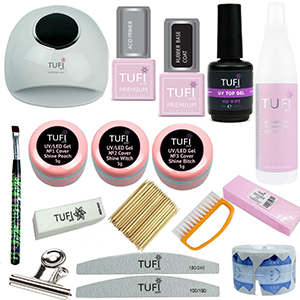 Manicure and pedicure kits are designed to ease the pain of choosing when buying all the necessary materials and tools. Indeed, now a huge number of different products are presented on the nail service market, and the question often arises which components are necessary for manicure and pedicure, and which are not essential goods. A large selection of sets makes it possible to purchase exactly the one you need. You can buy a high quality manicure set in our TUFISHOP online store.
TUFISHOP presents gel polish kits and gel extension kits : Mini , Lux , Vip, as well as gel polish remover kits . All of them differ in the number of tools and materials included in the set, and, accordingly, in cost. There is always a discount on our manicure starter kits , so buying them is not only convenient, but also profitable. For beginners, Lux starter kits are perfect, because they have everything you need to create a manicure at home or in the salon. If you plan to professionally engage in gel polish or gel extensions, then we advise you to opt for Vip kits.
Buying a manicure starter kit is a good choice
Coating nails with gel polish today has become so popular among the female half of the population that more and more girls decide to carry out this procedure on their own. If all the tools for manicure and pedicure are available, as well as the materials provided for the procedure, then without a doubt the manicure will turn out to be incredibly bright, memorable and will last on the nails for at least two weeks. Since the procedure for applying gel polish in salons is not so cheap, buying all the necessary tools and materials will pay off, and even very quickly.
If you want to do a manicure or pedicure at home and at the same time create masterpieces on your own nails, then you simply need a manicure set for beginners already assembled and ready to use tools. Usually such kits include everything you need to work in the first stages.
How to choose a basic manicure set?
Before buying a starter or basic manicure set, decide on its purpose. The most minimal set is that without a lamp, it will not be expensive, it contains a base, top, fixer and gel polish. It is suitable for those who already have a lamp, because without it you will not be able to make a coating. If you are new to this field and do not want to spend a lot for now, we advise you to purchase a minimum set, where there is a lamp. For craftsmen who do not want to buy tools and additional devices, you should opt for a complete set with a lamp and a router, where the lamp power is at least 36 watts. Such equipment allows you to quickly and effectively dry the gel coating.
It is much easier and safer to carry out the procedure with a gel polish manicure starter kit, since all items are of high quality.
It is included in the kit?
Lamp for manicure . Usually the set includes a UV lamp, LED , LED + CCFL. All these lamps do an excellent job of drying gel polish. Most often, UV lamps are included in kits for beginners, as they are easier to use, have a lower cost, and also do a great job of curing the gel. When choosing a set for gel polish , you must definitely take into account the power of a table lamp for manicure. The ideal option is when it has a power of 36 watts. Such lamps quickly and efficiently dry nails and are very convenient to use.
Base and top coat . Usually the base and top are in a starter kit for a manicure with a lamp , from the same manufacturer as the gel polish . This ensures that the coating is perfect, without any problems will lie on the nails, will not peel off, retain its original color and at the same time last as long as possible.
Liquid for degreasing and removal of a sticky layer. An indispensable item in every set. For a good result, before the gel polish procedure, it is necessary to degrease the nails, for a better adhesion of the base to the nail. And of course, you should always remove the sticky layer at the end of the procedure (if the top has a sticky layer) to create a glossy shine.
Gel polish remover . Must be present in every manicure kit with a lamp to buy. These funds can be both small and large. On average, it takes 10-15 minutes to remove the gel polish from the nails. Some nail technicians use a nail cutter to remove gel polish from their nails. Also, starter kits for gel polish additionally include nail files, buffs, lint-free wipes, orange sticks.
When choosing a starter kit for gel polishes, you must follow these recommendations:
A manicure set for beginners is worth buying the one that will best suit your goals. If your plans include doing gel polish just for yourself, a starter kit with a minimum amount of tools and materials will be enough. If you want to continue to deal with the procedure of shellac nails, and provide your services as a novice master, it is best to purchase a professional manicure set with a large number of materials and tools.
It is best to purchase a set of manicure varnishes with quality products. Do not chase the low price, because everyone knows that free cheese is only in a mousetrap.
If the kit does not include the materials and tools you need, you can always buy them separately.
Starter kit for manicure gel polish at home
If you decide to work at home, then you should order a nail kit so that there are exactly all the materials and tools to equip the workplace and work comfortably. To perform the work using the hardware method, you can purchase a set with a milling cutter on the site. The equipment allows you to quickly and effectively remove the old coating, give the nails the desired shape, and cut the cuticle. A novice master must master the techniques of working with a milling cutter. Also, for practicing masters who often face such a problem as the rapid consumption of polymer materials, we advise you to buy a gel manicure set and gel polishes of the same brand. They cost less as a set.
Buy manicure and pedicure kits
Manicure and pedicure sets make a great gift for any occasion. The TUFISHOP online store is responsible for the quality of goods, so you can be confident in your purchases. In order to buy a manicure set with gel and gel polishes, you need to place an order on the website or by phone, after which we will deliver the goods in a convenient way for you anywhere in Ukraine.
Frequently asked Questions