Cuticle Remover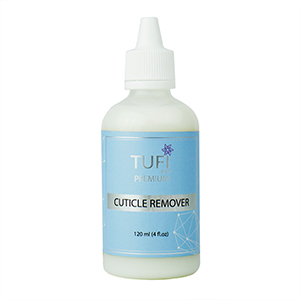 If you are not a supporter of edged or hardware manicure, then the best way to care for the cuticle is to soften it with a special remover . Such a hygienic manicure is also called European , it is carried out without mechanical action with the help of scissors and cuticles. Well-groomed nails with properly processed edges are always admirable. Cuticle removal with this tool is a quick, easy and painless procedure, in which the risk of damage to the skin around the nail is minimized.
Unedged manicure is the safest type of manicure. In Europe, without exception, girls and women have long switched directly to it.
Unedged , or as it is also called European , manicure is safe and not painful. With such a manicure, cutting devices are almost excluded, for this reason the likelihood of infections is reduced to a minimum. In addition, an unedged manicure is very simple to perform and it is easy to do it without the help of others at home.
How to switch to unedged manicure
If you decide to switch to such a safe manicure , start by constantly applying cream or cuticle oil . These funds will prevent its drying and cracking, and in addition, with systematic use, they will gradually slow down growth.
But you don't have to wait for great results. Your hands will be perfect only after 5-7 sessions of European manicure. The cuticle remover is the perfect assistant in a quick and high-quality manicure.
What is needed for unedged manicure
You will need:
nail file ;
buff;
remover;
manicure wooden sticks;
cuticle oil;
manicure scissors. Uncut care does not mean cutting the cuticle, but still there are situations when they cannot be dispensed with. For example, if you have not used hand cream or cuticle products for a long time, the skin around the nail can be very dry and cracked. In this case, there is nothing left but to carefully cut off the protruding burrs.
Remover application technology
It is necessary to clean the nails from varnish.
After preparing a bath with warm water. Each hand must be steamed in it for at least 5-10 minutes;
Apply the remover with massaging movements on the area of keratinized tissue, and wait until it is completely absorbed into the skin. You can find information about the exact time on the packaging or in the instructions.
Then you can remove the cuticle with an orange stick or a pusher.
Remaining funds are wiped off. Already on completely clean and dried nails , cuticle oil is applied;
The oil can help soothe the skin after an aggressive attack and ensure a quick recovery.
If you want to make a design or just varnish your nails, feel free to proceed with your plan.
An unedged manicure is perfect if you have a thin and soft skin, and besides, blood vessels are close.
Remover Benefits:
Security. It is absolutely impossible to bring an infection;;
Ease of use, using a cuticle remover is easy, and you can definitely handle it;
Work speed. With a cosmetic care product, a manicure is not only pretty, but also fast.
Classification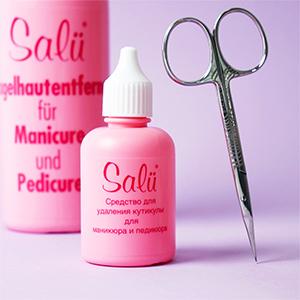 All removers are classified according to the active ingredients that enter into their composition.
Acid is an excellent drug that is able to quickly quickly remove the cuticle. Directly for this reason, it is generally accepted to use it in special beauty salons;
Alkaline is the lightest product, it is more often used in domestic conditions. Its exposure time is much longer than that of the acid. However, it harms the nail to the least extent;
Helpful Hints
In order for the unedged look of the manicure to come out flawless, you should take care of good lighting. Preferably, a table lamp with daylight is best suited for this, in which it is easier to do such delicate work.
Giving the nails the necessary shape, it is necessary to constantly move from the periphery to the center in order to avoid delamination of the nail.
In order for your hands to always be in a flawless stay, unedged care should be done 1-2 times a week. Over time, the frequency may be reduced. For the comfort and correctness of the manicure, it would be better not to process two handles at the same time. Since it is much more convenient, it will be if the working hand remains dry.
For the comfort of removing the remnants of the cuticle, try using cotton swabs. This technique is more gentle and gentle than the use of a hard plastic stick.
Owners of the most susceptible skin may be allergic to many components with which classic European care is implemented, for this reason it will not be superfluous to pre-test by applying the product on the wrist for 10 minutes.
How to buy a remover
In order to buy a remover, you first need to decide on the brand, because Tufishop presents a large number of removers from different manufacturers: Kodi , Le Vole, My Nail System, Nila, etc. Removers are also presented in various volumes, which makes it possible to buy exactly the one that is needed. Also, to perform a European manicure, you may need: orange sticks, pushers, europumice, etc.
Frequently asked Questions