Spacers (separators)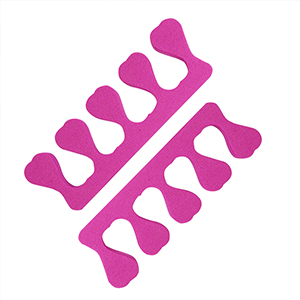 In any beauty salon, one of the main tasks of the master is to create the comfort of the client. For this, special equipment and elements of the interior of the cabin are intended. For a pedicure master, spacers (separators) are such an element.
Not only a manicure, but also a pedicure should be beautiful and spectacular, because every woman wants to show off her new, bright and sophisticated pedicure. Turning to the beauty salon, we note that the masters use many tools and equipment when performing a pedicure. Indeed, in the pedicure procedure, high-quality and diverse devices are needed. Many masters use equipment such as a finger separator when creating a pedicure, which simplifies this procedure. They perfectly spread their fingers, making the process of painting nails more comfortable and enjoyable. The dividers are made of soft foam or silicone that adapts to the foot without causing discomfort..
What are spacers?
Spacers ( separators ) are an indispensable element in the pedicure procedure, which distributes the correct position of the toes, which greatly facilitates the work of the master. After all, well-groomed legs and a beautiful pedicure are the key to a successful and harmonious image of a woman.
Types of separators for fingers:
Silicone - bend, making them easy to put on;
Foam - have a soft texture and take shape between the fingers.
Spacers (separators) are made of a material with moderate elasticity, so they easily take the desired shape under the fingers. so they never rub or cause discomfort. After processing, the pads return to their original shape and can be reused. Many girls are familiar with the situation when, at the final stage of a manicure, when all the nails are already beautifully varnished, one coating on the adjacent finger accidentally comes off. To avoid such a situation, they came up with miracle helpers - finger spacers.
Thanks to the pedicure pads, the master will not only perform a neat pedicure, but also save his time. Also, the interdigital separator can have different, colorful colors, so the master can choose it for the interior or the client can choose the color that suits him. And this, as you know, can inspire the master to new ideas for a stunning and unique manicure. Dividers keep fingers in the correct position and prevent smearing of nail polish, gel polish or decor.
Recommendations for use at home
Don't have time for a regular pedicure at a professional beauty salon? With the help of a toe separator, you can do your own pedicure at home, and the effect will be amazing.
Soft separators do not irritate the delicate skin between the fingers, they are pleasant and comfortable to use. They separate the fingers and allow you to perform precise actions inside the nail plates. You can easily give them the desired shape, push back the cuticles, as well as paint with varnish or do a hybrid styling. They are reusable. In them, your legs will look perfect at any time of the year.
Tools The toe separator makes it easy to color your toenails. From now on, you will be doing pedicures like a pro.
Rules for the care of pedicure tools:
After each use of manicure and pedicure tools, they should be thoroughly rinsed and wiped dry.
After each procedure, it is necessary to disinfect pedicure instruments with disinfectants for instruments.
Ignoring this rule may lead to deformation, after which their use will become impossible.
For storage, use special bags and cases, where each accessory is stored in the cell allotted to it.
Precautionary measures:
Keep out of the reach of children.
Avoid contact with eyes.
Do not use in case of hypersensitivity, damage or disease of the nail plate.
Do not misuse.
The product offered in this online store is for professional use only.
Where to buy spacers (separators)?
Do you want to buy a spacers (separators)? Then the online store https://tufishop.com is at your disposal or visit our store in Poland, which will open on November 30, 2022 in Warsaw. The TUFISHOP online store has a large selection of the highest quality finger separators. You can buy dividers (separators) in our showroom or order delivery. In addition to pedicure equipment, a wide range of equipment and cases is offered, a huge number of nail products: gel polishes, removers, manicure tools, nail files and much more. Separators made of very gentle and soft rubber foam, used to separate the toes during pedicures and manicures, as well as to protect the nail plate. We work only with trusted suppliers, so that all products are of high quality. To order a product, enter the product you are interested in on the website or visit our showroom in Warsaw. Call us, we are waiting for you!
Frequently asked Questions