Orange sticks

-

an indispensable tool in manicure business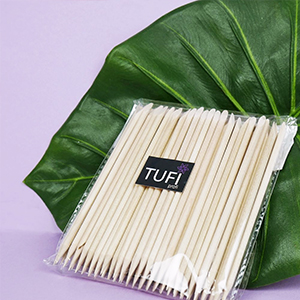 Each girl is ready for many achievements to achieve perfectly well-groomed hands. Many specialist psychologists and statistics compiled from surveys of ordinary people show us that men always first of all evaluate the condition of a girl's hands and nails. There is nothing surprising in this, because graceful hands and a beautiful manicure are the hallmark of a housewifely and well-groomed woman. For this reason, for absolutely each of us, it is critically important to successfully solve one small question, which is: how to remove the annoying cuticle, which grows by leaps and bounds, and negligibly spoils a recently produced and expensive manicure? Don't be so quick to give up hope! We have prepared useful information and some useful tips on how to get rid of annoying cuticles once and for all.
To make a beautiful, unique and spectacular manicure, you don't need so much: a nail file, a base, a lamp for drying nails, a gel polish of the desired color, a top and, of course, the same orange stick, which we will now talk about in more detail.
What is an orange stick and what is it for?
An orange stick is a thin wooden stick that is pointed at one end and flat at the other. Many are interested in why manicure sticks are made from orange wood. The answer is simple: it is this tree that has disinfecting properties, and it also has a soft but dense structure that does not harm the delicate cuticle. The use of orange sticks as a manicure tool began in France. Thanks to this country, these cuticle sticks quickly gained popularity all over the world and won the trust of all nail industry masters.
How and for what can you use orange sticks in the salon and at home?
Orange sticks are a universal tool, but there are several main areas of its application, namely:
for cleansing the inner nail plate;
for a European non-edged manicure, namely an orange stick is used to push back the cuticle;
to remove the cuticle;
for laying out gel for building and acrylic;
for decorating nails with rhinestones, sparkles, sequins.
Every girl who prefers an unedged manicure knows how to use such a necessary attribute. Attractive and well-groomed hands are an integral part of the image of the current fashionista. To help the procedure for creating a manicure to be simple, but of high quality, an indispensable tool in the face of an orange stick will undoubtedly help.
It is this manicure tool that is considered one of the most important parts of the female inventory, because just the orange stick is best suited for making a trendy manicure in the modern world. The fundamental difference between this method of treating nails and the traditional trimmed manicure is that there is no need to remove the cuticle with forceps. Due to the use of this device, the manicure procedure is painless, and the threat of infection and damage to the periungual area is minimized.
Unedged manicure is the safest type of manicure. In Europe, without exception, girls and women have long switched directly to it.

What does it take to wean the cuticle from growing completely?
bath with hot water
orange stick
cuticle oil
a special brush (you can even use a toothbrush)
manicure scissors
nail file of medium abrasiveness
The process of removing cuticles with an orange stick is quite simple:
The first thing to do is steam out the handles. To do this, put your hands in a pre-prepared bath with warm water.
Then push back the cuticle with an orange stick and trim it carefully with nail scissors.
The next day, it is necessary to repeat this manipulation, even if the cuticle has not grown at all. In a similar way, we do not allow it to increase in size. This procedure must be repeated every day for 3-4 weeks.
After that comes the next step - the use of a brush. We take it and clean off the remnants of the cuticle. With such a brush, we do not go through the cuticle every day, but only once every 3 days.
Step 5 is the easiest and is the daily cuticle oil application. The main thing is not to forget to rub it well after applying it to your finger.
And the final stage is sawing the side ridges of the skin near the nails with a nail file, this is done on a dry skin. We select a nail file of medium abrasiveness in order not to cause injury to the skin.
That's it, now we forget what the cuticle is, and we can enjoy the neat appearance of our nails.
Are there

any

alternatives?

While orange sticks are an ideal and affordable tool, sometimes you need to know what can replace them with dignity. This is where bamboo sticks come into play, but they should not be abused. Those who used them noted that they can scratch their nails. There are also iron sticks for manicure, but with them the procedure will turn out to be very rough, because there is a high probability of damaging not only the nail plate, but also the skin around.
Where to buy orange sticks?
Do you want to make a neat manicure with orange sticks? Then you have come to the right place, because the online store TUFISHOP has wooden sticks for manicure of different lengths and thicknesses. In our store there are sets with a different number of orange sticks in the package. This manicure set is an indispensable tool in your manicure set. You can buy orange sticks for cuticles at a bargain price and excellent quality in our physical store, call the number on the website or place an order online. We also offer a huge amount of goods for nails: gel polishes, removers, manicure tools, nail files and much more. We work only with trusted suppliers, as a result of which we guarantee the quality of the goods offered. Delivery is carried out throughout Poland in the shortest possible time.
Frequently asked Questions