Armrests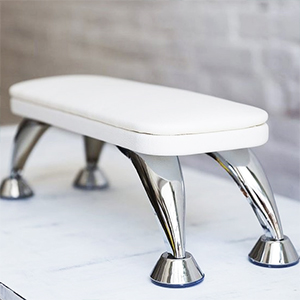 Every year, the beauty industry is developing more and more, a variety of accessories are being created that are designed to facilitate the work of masters. Thanks to this, each specialist can easily choose the tools or any other means that suit him. The most important thing in carrying out a manicure procedure is to make the client feel comfortable and comfortable. For this there is an armrest .
The armrest is a special piece of equipment designed to keep the client's elbow and hand in a comfortable and correct position. Thanks to the manicure armrest , the client's hand will not get tired, and the muscles will be relaxed. Also, the presence of such an accessory greatly facilitates the work of the master, since the hands are at the right height and at the right angle.
Armrest Benefits:
Easy to clean and disinfect , while the upholstery does not fade, does not stretch, does not crumble;
Meets sanitary requirements - does not cause allergies, does not contain toxins, does not leave traces of paint on the body;
Ergonomic for clients, comfortable for the master.
How to choose an armrest for manicure?
Stands for manicure are available in a variety of shapes and heights, but they differ little in terms of functionality and convenience. Without exception, all devices are very comfortable and multifunctional, the main thing is to choose the armrest that suits you best in terms of design and appearance of the upholstery.
What is the armrest made from?
The armrest or arm rest is made of soft foam rubber. The armrest is sheathed with leatherette or a material that is easy to wash and clean. Also, in many coasters, the top casing is removed, which makes cleaning much easier.
The armrests are available in different colors with different patterns, thanks to which it will decorate any salon and will suit any interior. There are also different forms of armrests such as: straight , curved , flat , convex .
Where to buy an armrest?
Do you want to give your client heavenly pleasure during a manicure procedure . The TUFISHOP online store will help you with this, thanks to a large selection of manicure armrests , the client will not only enjoy the final result, but also enjoy the procedure. In order to buy an armrest , you need to call us or place an order on the website. We also have a large assortment of gel polishes and lamps and a large assortment of manicure tools: primers, cuticle softener, orange sticks, baths for manicure and pedicure, brushes , etc.
Frequently asked Questions