Cuticle oils — strong nails and moisturized cuticles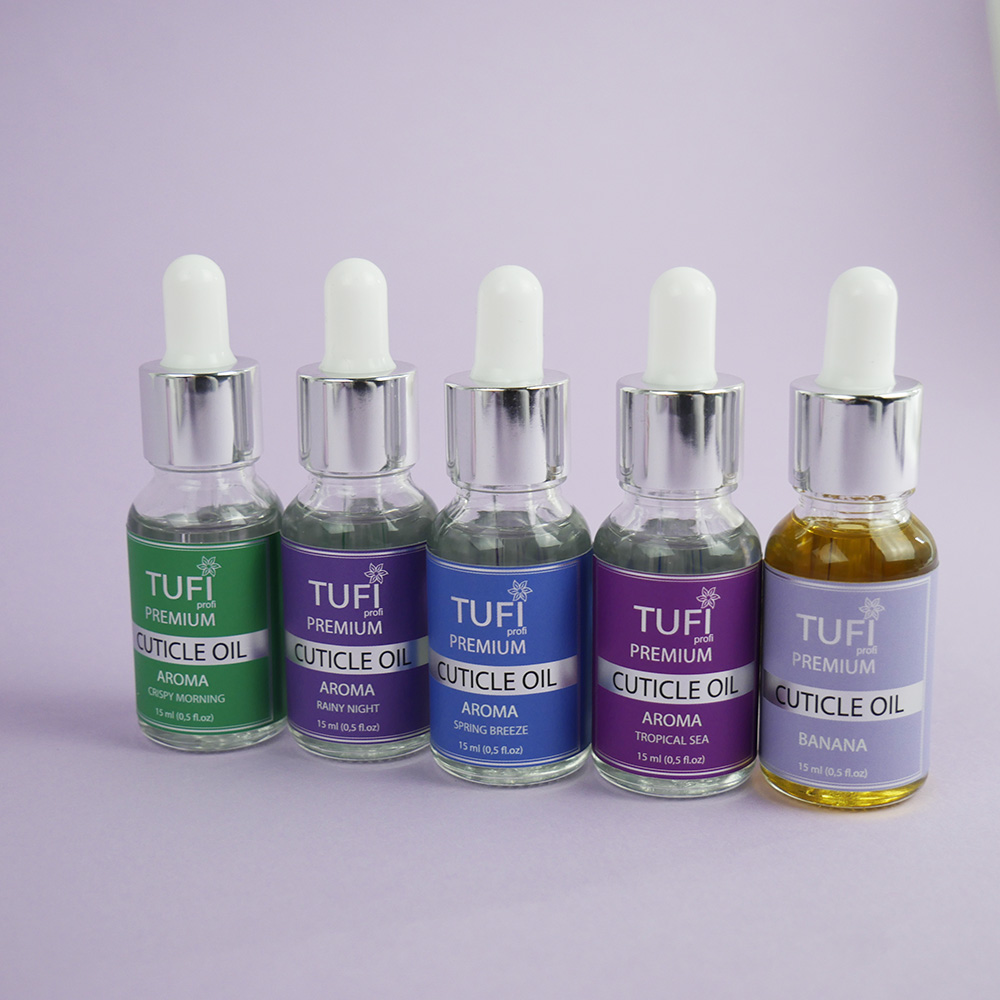 Cuticle oil, or in other words nail oil, is a product that is applied to the cuticles and nails in order to moisturize and nourish them. It is typically made with a blend of oils, such as jojoba oil, coconut oil, and vitamin E oil. These oils work together to hydrate the cuticles and nails, preventing them from becoming dry and cracked. Cuticle oils come in different forms, such as liquids, creams, and balms. Some cuticle oils are also infused with essential oils, such as lavender or tea tree oil, which can provide additional benefits such as soothing dry or irritated skin.
When using oils for cuticle, it is important to choose a high-quality product that is specifically designed for use on the cuticles. Many cuticle oils on the market contain a blend of natural oils, such as jojoba oil, vitamin E, and tea tree oil, which are known for their nourishing and moisturizing properties. It is also important to look for a product that is free of harsh chemicals or synthetic fragrances, which can be harsh on the skin.
Nails cuticle oil — advantages of using
One of the main benefits of using cuticle oil is that it helps to hydrate and moisturize the cuticles, which can become dry and brittle due to a variety of factors such as cold weather, frequent use of nail polish, or even genetics. When the cuticles are hydrated, they are less likely to crack or tear, which can lead to painful hangnails or even infection.

Another benefit of using oil for cuticle is that they help to promote healthy nail growth. The cuticles play a crucial role in protecting the nails from damage, and when they are well-nourished, they are better able to do their job. This means that using cuticle oil can help to prevent nails from breaking or becoming damaged, which is especially important for those who have weak or brittle nails.
Cuticle oil, also known as nail oil, is a product used to moisturize and nourish nails and cuticles. Nail oils can also help improve the appearance of nails, making them look healthier and more attractive. The cuticle and nail oil can help smooth out ridges and blemishes on the nails, giving them a more polished and finished look. Stronger nails are less likely to chip or split, making them less prone to damage. This is especially important for those who use gel or acrylic nails, as these types of nails can be more brittle than natural nails.
Nail and cuticle oil - method of application:
Before use, it is necessary to thoroughly prepare the cuticle. The product should be used both before the manicure (softening) and after it (regeneration). In advance, thoroughly prepare the natural nail plate and wash your hands well. It is also important to gently remove the cuticle, for this purpose a special cuticle cutter is used.
The product should be applied not only to the cuticles, but also to the nail bed. The cuticle product should be gently spread over the entire nail plate and cuticles.
Then wait a few minutes. If the nail oil applied before the manicure treatment, leave the oil for 5 minutes, if after the manicure leave it for 20 minutes. Cuticle and nail oil can be applied to nails and cuticles with a small brush or dropper.
When the time is up, the product is simply wiped off with a simple tissue.
It is necessary to apply the product daily. It is also recommended to apply cuticle oil before bedtime and wear cotton gloves to seal out moisture while sleeping.
Using cuticle oil is an easy and effective way to maintain healthy, beautiful nails, preventing them from drying out and cracking.
Oil for cuticle — online availability
Using gel nail polish, extending nails or strengthening the natural nail plate always need tools, without which it is impossible to perform. Nail anf cuticle oil helps to strengthen the nails and moisturize the cuticles and prevent them from drying and cracking. Oils for cuticle are available at the TUFISHOP online store, so any nail stylist has the opportunity to shop from anywhere and enjoy the high quality of the offered items and customer service. It is possible to place an order at any time, so it is a great alternative to traditional shopping.
After ordering from the TUFISHOP online store, it is possible to make payments online: using PayPal and Blue media (BLIK recurring payments; Pay by link; Payment by card; Electronic wallets; Online installments; Recurring payments; Google Pay; Apple Pay; Visa Online transfers). You can also pay by cash on delivery when you select delivery by courier DHL. Be sure to prepare the appropriate amount of money - this will avoid a situation in which the courier will not be able to give you the rest.
Delivery of orders is carried out throughout Poland via:
DHL - pickup point from 8,00 PLN, bank transfer from 9,90 PLN, cash on delivery from 11,90 PLN. International DHL delivery from 61 PLN.
InPost - pacztomat and courier service (no payment when ordering from 200 PLN), delivery 1-2 days.
Poczta Polska - from 10,99 PLN (no payment when ordering from 100 PLN). International delivery from 60,99 PLN.
Long, strong nails will always be the decoration of your hands! Order your product for cuticle now, pick it up at your address in a moment and enjoy your shopping!
Frequently asked Questions