Magnets for gel polish "Cat's eye"
Cat eye magnet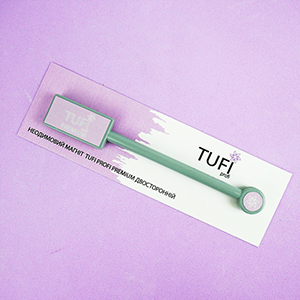 With the development of the Nail industry, a shade of cat's eye stone appeared among gel polishes. Manicure began to look more impressive, enchanting, unusual and bright with him. Cat eye gel polish is one of the magnetic gel polishes that has magnetic particles. The design of the cat's eye manicure got its name for its resemblance to the mineral chrysoberyl, which resembles the eyes of a cat. A cat eye manicure with a design looks very neat and attractive on short nails. The cat's eye will look gorgeous on both long nails and short nails.

Gel polish Cat's eye has won its niche in the nail service and is not inferior in popularity to the standard color collections of gel polishes. But without such a device as a neodymium magnet, it is unrealistic to achieve the desired result. Even an ordinary magnet can act on gel polish, but it is unlikely that the desired effect will be obtained. Therefore, they created special magnets and magnetic pens.

Magnet for gel polish. Usually goes in addition to gel polishes with the Cat's eye effect, but there are other magnets with a variety of patterns. With the help of which it is very easy to create the desired pattern without much effort. It is enough to bring it to the nail plate at a distance of 3-5 mm and hold for 10 seconds until the pattern itself appears. Very popular among nail artists.

Magnetic pen. A very convenient device, because it looks like a regular pen and it is also easy to use. Drawing the desired patterns on your own to your taste. Hold the pen 0.5mm away from the nail and draw unique designs. The cat eye magnet works in an interesting way, it lifts small metal particles and places them in the right direction, creating a beautiful highlight. You can buy a neodymium magnet inexpensively on our website.
The tricks of applying gel polish with the effect of "Cat's eye" and working with a neodymium magnet
Gel polish Cat's eye has its secrets and not everyone can know about them. Here are some fun facts:
When working with different magnets, unique patterns are created that are not similar to each other.

After application, you immediately need to create a pattern, without waiting for it to dry, and it is advisable to work with each nail separately.

It is important to place neodymium magnets at a distance of 3-5 mm from the nail.

Hold the magnet over the nail for up to 10 seconds.

Do not be afraid to twist the magnet, changing the location of this will get interesting highlights.

Don't limit yourself to gel polish, because it can serve as a backdrop for a variety of decor.
Neodymium cat eye gel polish magnet
As you already know, creating a cat-eye manicure is simply not possible without a special magnet.

 
You can of course use a strong neodymium magnet that you found at home, but it won't be as effective.

 
Each gel polish manufacturer offers its own neodymium magnets, ranging from standard straight magnets to special magnets with a handle, which are more convenient to create a manicure with a magnet.
A well-designed gel polish magnet has a comfortable handle and allows you to control and maintain the optimal distance of the magnetic plate to the surface of the gel polish, as well as maintain the correct slope and direction of the glare.

the saturation of the glare depends on the level of the presence of metal particles in the gel polish, as well as on the duration of exposure to the magnet on them.

The shape and contrast of the glare is completely dependent on the neodymium magnet, which is why it is worth using only perfectly even neodymium magnets to get the perfect result.
Feature of applying gel polish Cat's eye
Gel polish Cat's eye having an unusual structure is very easy to use, but with a small addition to work:
Prepare the nail plate by sanding and smoothing the edge.

Next, apply the base, for a strong bond between the nail plate and the gel polish itself.

 

We apply primer.

After the base, apply the Cat's Eye gel polish and at a distance of 3-5 mm bring the magnet holding for 5-7 seconds, then apply the second layer, but do not forget to dry each layer either in a UV lamp or in an LED lamp.

The final part goes to the top coat and also dry in the lamp.

Then remove the sticky layer and treat the cuticle skin with special oil.
Where to buy a magnet for gel polish?
Do you want to buy a magnet for gel polish "Cat's eye"? Then the TUFISHOP online store is at your disposal or visit our store in Poland in Warsaw. On the TUFISHOP website you can always buy neodymium magnets quickly and easily. The best magnets of high quality and at an affordable price - only in TUFISHOP and only for you. Delivery of goods is carried out worldwide. Free shipping from PLN 200 throughout Poland. We work only with trusted suppliers, so the quality of the goods is at a high level. To order, call one of the indicated numbers on the website, or come to our showroom in Warsaw. Call us, we are waiting for you!
Frequently asked Questions