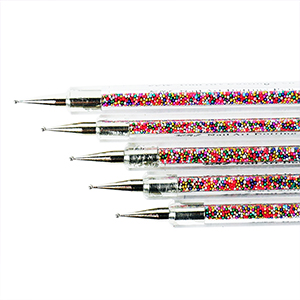 Dots brushes for painting on nails
Dot manicure or polka dot manicure has been and remains one of the most interesting and at the same time affordable nail designs. Many women of different ages fell in love with it and it is especially popular in the summer, when everyone wants to see more colors and stay in a cheerful, sunny mood.
If do not know how or just simply cannot put dots on your nails or draw circles with ordinary gel polish brushes, it is worth remembering the existence of dots. This is a special tool just for dot patterns. With it, you can make even dots of different sizes, draw small details or glue rhinestones. A dots brush is a thin stick made of wood or plastic, the tip of which is a small metal ball. The size of this ball can be different depending on what size dots it is intended for. It can be either tiny dots or large circles. If we talk about the variety of patterns that can be placed on the nail plate with this brush, then it is worth mentioning the most popular options: dots, flowers and, of course, the well-known French stripe. The dots stick is made of high-quality plastic or wood, it fits perfectly in the hand and provides comfortable work. Thanks to this brush, nail design can be very original and individual.
How to use a nail brush for dots
Drawing dots with this brush is easy, because this tool was invented just to facilitate and speed up the work on the design of a polka dot manicure. There is nothing difficult about drawing dots. Both an experienced nail-master and a beginner can master this technique.
First you need to cover your nails with gel polish of the desired color and wait until it dries completely, or speed up this process by using a nail lamp;
Then it is necessary to prepare the material with which further work will take place. To do this, take a palette and apply paint on it (it is advisable to use acrylic paint), then dip a metal ball into it;
After that, you can start drawing. Equip yourself with a brush for dots, like it is a pencil or pen. Dots, commas, flowers and lines - all these patterns are easily created with a dots brush. The main convenience is that the lines always get thinner at the end as the paint on the metal ball gradually decreases;
Do not forget to periodically wipe the dots on a napkin to get rid of excess paint.
After finishing the painting, it is necessary to wipe the paint from the brush using nail polish remover.
Nail design with dots
As mentioned earlier, polka dot manicure is always fashionable, original and simple. Thus, even a person who has never held a brush in their hands will cope with this technique of drawing on nails. It just takes a little practice and getting used to working with dots.
In order to decorate your nails with dots, you will need not so much:
brush dots;
nail file for manicure;
UV lamp or LED lamp;
buff;
cuticle remover;
orange stick;
base and top for gel polish;
primer;
two contrasting gel polishes.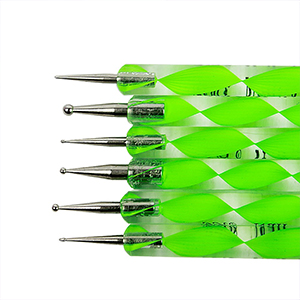 The process of creating a beautiful dot manicure with a dots brush:
The first thing to do is, of course, shape the nails with a nail file.
Then you need to align the edges of the nail and carefully clean it from dust. The main thing to pay attention to before applying gel polish is to remove the cuticle from the nail plate with an orange stick or a cuticle remover.
It is necessary to remove the upper keratin shell from the nail plate, for this you can use a buff of medium abrasiveness.
After that, it is necessary to apply a primer so that the base is firmly fixed on the nails. Wait for the primer to dry, usually about 1 minute. Then apply foundation. The base smoothes the surface of the nail, masks its imperfections and ensures uniform application of gel polish. The base is applied in a thin layer across the entire width of the nail plate. After applying the base, dry the nail under the lamp;
Cover your nails with the chosen color of gel polish and dry it in a lamp.
Take a palette for nail polish, where you usually mix gel polishes. Drip a little gel polish of the desired color on it. Dip the tip of the dots brush into the gel polish.
Start painting patterns on your nails without limiting your imagination. It can be dots or commas, or maybe you can even draw some beautiful flowers. Don't be afraid to be original!
At the very end, cover your nails with a top coat for a beautiful gloss and long-lasting coverage. Dry the top for 2 minutes in a UV lamp. At the end of the manicure, do not forget to remove the sticky layer from your nails.
Come up with your own compositions, do not limit yourself to simple circles. As for the choice of colors, here it is also worth giving freedom to your own imagination, since there are no specific rules. The main thing is that the result brings positive emotions and pleases the eye.
What can replace the dots brush?
If suddenly this miracle brush was not at hand, there are several simple alternatives. Although they are noticeably inferior in their practicality, they can quite adequately replace real brushes for drawing dots.
Here are some alternatives:
toothpick (wooden or plastic);
pencil;
hairpin;
teeth from a massage brush;
cotton buds;
an empty rod without ink;
paper clip.
Where to buy brushes for a dot manicure?
Create your own manicure with a unique design, make your nails more colorful and trendier with the help of dots, as the drawings with such a brush come out neat and picturesque. In the assortment of the TUFISHOP online store you will always find directly the dots that will become a wonderful assistant in nail design. You may also need various manicure equipment: nail files, buffs, brushes for gel and gel polish, orange sticks, pushers, nail extension tips, special liquids, etc. You can place an order by phone or online. Delivery is carried out throughout Poland.
Frequently asked Questions