Clips for removing gel polish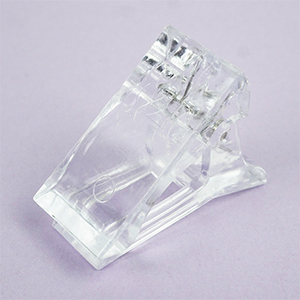 The procedure for removing hybrid gel polish has become faster and easier over the years, but until recently no one could have thought that this could be done without using the well-known foil method. Everyone chooses any method of removing nail polish that is comfortable for themselves, but nowadays more and more girls are inclined to buy special clips. They have become a good and more aesthetic alternative. Nail clips are simple and easy to use. Moreover, they are available in different colors and are made of both plastic and silicone, thanks to which they can be used more than once. Buying these clips is a breath of fresh air for those who are tired of seeing thickly wrapped pieces of foil on their hands.
Also, the nail clip has the following advantages:
cannot be removed during drying in the lamp;
easy cleaning and disinfection after manicure and pedicure.
In the case of hybrid gel polish, many girls have to go to the salon for the procedure, since such nail polish is more difficult to remove than usual one. The removal process can be accompanied by a large number of difficulties and inconveniences, however, if you use our tips, this can be done at home.
Reliable ways to safely remove hybrid nail polish at home:
Using special manicure clips
Nail polish removal with special clips is the best way to clean the nail plate, so we recommend that you familiarize yourself with it first. For the procedure you will need:
clips
nail polish remover
nail file
orange stick
cuticle oil
How to use nail clippers:
Make sponges of cotton wool, which should cover the entire nail.
Remove the top with a polisher so that the acetone penetrates well into the nail polish.
Moisten cotton pads in acetone remover, apply to the nail and secure with a clip to remove the hybrid nail polish. Keep on nails for 15-20 minutes.
Remove the clips and use the orange stick to remove the remaining nail polish. Bring the shape of the nail to the desired with a file.
Be sure to apply cuticle oil.
Soaking method
This method should be used only in cases where you want to remove the nail polish quickly and efficiently, because with frequent soaking, the skin and nails will dry out a lot.
How to remove hybrid gel polish by soaking:
Fill a bowl with acetone nail polish remover and dip your nails into it. Keep 7-10 minutes.
Remove the nail polish with an orange stick.
Cover your hands with cream, don't forget to use the cuticle oil.
Foil method
In order to remove the nail polish with foil, you will need:
nail polish remover containing acetone
round cotton pads (cut in half or cut to the appropriate shape of the nails)
foil
pusher or orange stick.
manicure file
polisher
cuticle oil
The process is simple:
Make cotton sponges of the right size so that they can cover the entire nail plate.
Cut pieces of foil that should be long enough to wrap each finger tightly.
Remove the top layer with a polisher. This will help the acetone penetrate better into the gel polish.
Moisten a cotton pad with liquid, apply to the nail and wrap with foil. Then hold for 15 minutes.
If the polish has not been completely removed and partly remains on the nail plate, take an orange stick (or pusher) and carefully remove the remains.
To bring the nail to the desired shape - use a nail file.
Do not forget to apply cuticle oil to complete the procedure properly.
What not to do during the gel polish removal procedure:
scratch and peel off the hybrid nail polish;
remove the remaining nail polish with a metal tool instead of the orange stick.
Clips for nail extension forms
In addition to simplifying the process of removing the hybrid nail polish, the clips are also used to extend the nails. To do this, there is a separate type of clips in the cosmetics industry, outwardly slightly different from those with which they get rid of gel polish. Such clips are made of transparent plastic, thanks to which UV radiation spreads over the entire surface of the nail in the same amount, i.e., evenly. Thanks to these nail extension clips, you can quickly and accurately model and fix the desired shape of the nail. This not only saves time, but also helps you achieve the best results.
Nail clips are small in size, so they do not take up space at all and can be stored with other manicure accessories. The clips are equipped with a tiny spring that provides the optimal degree of pressure without changing the thickness of the gel layer. They work great with top forms and gel tips.
However, it is worth not forgetting that the nail extension clip should be used with care so as no damage is caused to both the nail and the clip itself.
Advantages of nail extension clips:
reusable, guaranteed long term of use;
easy to use, even a novice master can handle them;
easy to clean and disinfect, there will be no problems with them. They do not absorb liquids and are resistant to chemicals;
universal size - clips fit all fingers;
low price, which makes them available for every girl.
Where to buy nail clips?
The TUFISHOP online store offers a wide range of clips for removing gel polish. To make a purchase, just select the desired product and place an order online on the website or by phone. We also offer a huge selection of gel polishes, nail polish removers, manicure tools, nail files, cuticle oils and other products for nails and beauty salons. Our store works with trusted suppliers only, so we guarantee high-quality products. Delivery is made in the shortest possible time throughout Poland.
Frequently asked Questions