Upper forms for nail extension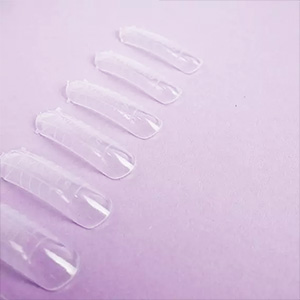 Look at your nails. Sometimes you just want them to be long and beautiful. But it takes so much work and time to grow them. And if one accidentally breaks, then all the work turned out to be useless and you have to start all over again, without reaching the desired length. Indeed, on long nails you can create extraordinary design masterpieces. However, there is now a very good alternative to growing nails, which many women have been using for a long time. This is, you guessed it, nail extensions. And now we will consider such an important material with which it is easy to lengthen your nails, like tips .
Features of choice
Deciding to buy a set of tips , you should pay attention to their size. If the shape is small, then such an overlay will constantly be in a compressed state, which can lead to a gradual deformation of the natural nail plate, which represents the lower layer. In the absence of cosmetic materials of the required size, preference should be given to slightly larger products. You can give them the desired shape using a special device - a tip cutter.
Based on personal preferences, you can buy manicure tips in one of the following shapes: square; acute; rounded; butterfly; daggers.
Special attention should be paid to special sets for French. Upper forms for nail extension can be ordered in our online store, which offers a large selection of tips sets at a bargain price. Such a set usually consists of 10 products of the corresponding size. Of no small importance is the color of the plates, which can be transparent, white, solid or colored.
A product such as tips for nail extensions (upper forms) can have a completely realistic look. This allows you to give your hands an attractive appearance with a special design. However, you should not buy overly thick and heavy products, because they can make the manicure unnatural and overly rough. You should also avoid products of dubious, little-known brands. A high-quality sample should be sufficiently strong and resilient, which will not allow it to break under an elementary load, and also provide the tightest possible fastening.
This technology of nail extension has a lot of advantages:
compatibility with short nail plates, thanks to a thoughtful contact area;

when building on forms, the most problematic area is at the junction of the natural and artificial nail. It is here that the mechanical load is concentrated, which provokes the destruction and formation of cracks. With tips, you can forget about this problem;

simplicity, ease, speed and low cost of the procedure;

the formation of a dense and durable tip of the nail, resistant to mechanical stress, so that there are no special problems when performing everyday tasks;

the ability to create non-standard configurations and forms;

under critical load, the overlay will peel off from the nail, without causing inconvenience and pain. With paper base forms, everything is different; breakage is often associated with injuries to the nail plate.
Despite the many advantages, building with tips has a number of disadvantages that need to be mentioned:
tips are made according to standard patterns, repeat each other in shape, which creates a feeling of a certain artificiality and unnaturalness;

without proper processing, the tip of the nail looks too thick and not too beautiful;

it is almost impossible to remove tips without a master, because the removal procedure is carried out using special hardware nozzles.
Where to buy tips for nail extension?
The TUFISHOP online store presents its customers with a large selection of various manicure and pedicure equipment at competitive prices and excellent quality. To place an order - you just need to call us or place an order on the site. You can order goods not only in Kyiv, we work throughout the country and take care of our customers.