Polygel (acrygel) FOX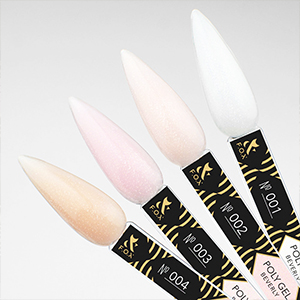 FOX is a famous American brand that has developed a novelty Fox polygel for nails of very high quality and better coverage. Acrigel Fox successfully solves two main nail tasks: it can be used to strengthen the nail plates, and it is also very easy and comfortable for them to build nails, modeling absolutely any shape and creating any length. FOX Polygel will help you create the perfect, superb manicure that will accentuate graceful hands.
FOX presents a series of coatings that are a kind of symbiosis of gel and acrylic, but with incomparably better properties. It is odorless, does not flow, surpasses its counterparts in strength, elasticity and lightness. The nails modeled by him look very natural and beautiful. The manufacturer draws your attention to the fact that the polymerization of the gel should be carried out in a 36 W UV lamp for 2 minutes or in a 36 W LED lamp for 30 seconds (the manufacturer does not recommend using lower power lamps).
How to work with FOX AcryGel:
Apply an acid- free primer to the prepared nail, squeeze out a bead of acrylic gel.
Lightly moisten the brush with clinser and spread the acrylic gel over the surface, giving the desired shape.
Dry in a lamp.
Finish the manicure with gel polish and top coat or simply cover the nails with a top coat.
Removed by cutting.
FOX AcryGel Benefits:
Ease of distribution over the surface of the nail plates if a specialized polygel liquid is used. Contact with the skin is completely excluded, so the craftsmen do not have to clean it from the material.
Comfortable working conditions with polygel material, since it polymerizes only under the influence of UV lamp rays, so you don't have to worry about accidental hardening in open sunlight.
The denser structure that distinguishes polygel lends itself to better sawdust. Dust generated during work immediately settles on the table, and is not sprayed into the air, which reduces the risk of occupational diseases.
Polygel is more comfortable to use, since the burning sensation during the drying process will be minimal, so women will definitely prefer the new material.
Ease of application, which means that even beginners in the field of nail service can handle the material.
Polygel , despite the density, is practically not felt on the nails, therefore it can be used for building up on fragile, exfoliating and brittle nail plates.
The material does not delaminate and instantly seizes with base and decorative coatings.
The possibility of using the material as a means to strengthen the nail plates.
Natural after application. The nail plates, which are covered with polygel, look very natural, because others will easily mistake extended nails for natural ones.
The possibility of using brushes with artificial bristles for nail extension, which allows masters to save on the purchase of tools.
Polygel is a one-layer coating, and creates a dense layer on the nails after the first application. Secondary application is required, which means that the material is used sparingly, which makes it possible to save money.
Polygel will be a necessary assistant if:
the client has problematic and weak nails, or nails naturally predisposed to a trapezoid shape, but wants to get an even, thin, heavy-duty and moisture-resistant base for gel polish manicure;
for repair of cracks and chips of artificial or natural nails;
it is necessary to fix the free edge and the length of the nail;
create a reliable shield from aggressive and negative external influences (constant contact with household chemicals, water, high-quality detergents and other chemicals, etc.);
the master especially succeeds in folding jacket, but I don't want to waste time, effort and materials on sawing out a smile;
often you have to create designs in the style of a colored or multi-color jacket with gels, but there are no necessary shades of pigments or dyes. The solution is simple: it is possible to mix polygel with any color of gel polish from the master's palette and bring to life the client's various whims;
gel-acrylic is no less pleasant when correcting nails modeled by it. The technique is completely identical to working with gels and acrylics and will not require additional costs from the master both for liquids and for tools and equipment.
You can always buy FOX polygel in the TUFISHOP online store. Excellent in quality and affordable, American gel guarantees durability and a stunning look of manicure. Also in our store are products from the brands Canni, Fox , Tufi Profi , OXXI and many others. We also offer a variety of products for nails: tools , router , nail lamps and more . To order, call one of the indicated numbers presented on our website, or visit our showroom in Kyiv. We deliver goods not only in Ukraine, but all over the world.
Frequently asked Questions