Akrigel Kodi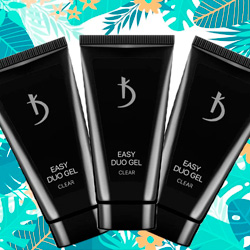 Modern technologies have made it possible to develop a material that, in terms of its qualities, certainly surpasses all currently existing nail modeling tools . We present to your attention the professional EasyDuoGel system, which innovatively combines the best properties of acrylic and gel. In today's world, beautiful and well-groomed hands are part of the life of any modern woman. The perfect manicure undoubtedly depends on the materials and tools used for the job. Extensions or this is a very popular procedure.
Having made a choice in favor of the Kodi trademark akrigel , you will definitely not regret it. An amazing structure that combines the best properties of acrylic and gel systems, has no unpleasant odor, does not harden in air (only in a lamp), does not flow, does not form residual stickiness. For this reason, the process of working with it is not regulated in time. It all depends only on the speed of the master himself. You do not need to send each nail to the lamp for drying in turn, do everything, and then dry it. This is an excellent material for both experienced professionals and for self-learning the basics of building. Does not harm the nails, comfortable and easy to file, gives excellent results of the application of a sea of advantages and no shortcomings. This series of polygels contains different colors, so you are sure to find something for yourself.
Benefits of Kodi EasyDuoGel:
Ease of distribution over the surface of the nail plates, dense and plastic consistency that does not change its state during the design process.
Comfortable working conditions with EasyDuoGel material, since it polymerizes only under the influence of UV lamp rays, so you don't have to worry about accidental hardening in open sunlight.
The dense structure, which distinguishes polygel, lends itself to better sawdust. Dust generated during work immediately settles on the table, and is not sprayed into the air, which reduces the risk of occupational diseases.
Polygel is more comfortable to use, since the burning sensation during the drying process will be minimal, so women will definitely prefer the new material.
Ease of application, which means that even beginners in the field of nail service can handle the material.
Polygel, despite the density, is practically not felt on the nails, therefore it can be used for building up on fragile, exfoliating and brittle nail plates.
The material does not delaminate and instantly seizes with base and decorative coatings.
The possibility of using the material as a means to strengthen the nail plates .
Natural after application. The nail plates, which are covered with polygel, look very natural, because others will easily mistake extended nails for natural ones.
Recommended for craftsmen with any experience.
Hypoallergenic and completely safe for the nail plate.
The possibility of using brushes with artificial bristles for nail extension , which allows masters to save on the purchase of tools.
Polygel is a one-layer coating, it creates a dense layer on the nails after the first application. Secondary application is required, which means that the material is used sparingly, which makes it possible to save money.
Acrygel is used for:
Repair cracked natural nails.
Protect your own nails from aggressive substances.
Nail extensions of any length.
To maintain weak, flaky nails prone to breakage.
Fixing the tips of natural long nails.
Creation of complex designs on natural or extended nails.
Strengthening nails with acrylate at home will require the following tools:
tools and tools for working with cuticles (for classical or European methods);
gel brushes ;
file 180 grit;
buff (polisher);
polygel Kodi ;
primer or bondex (for degreasing nails before applying acrigel);
top ;
Before you perform nail strengthening with polegel at home, you should carefully study this technology. It is preferable to see how a specialist works, so a visit to the salon at least once is necessary. If there is a violation in the technology of strengthening nails with gel , problems associated with its premature detachment may appear.
Buy Acrygel Kodi:
You can always buy Kodi polygel in the TUFISHOP online store. Excellent in quality and affordable, American gel guarantees durability and a stunning look of manicure . Also in our store are products from the brands Canni , Fox , Tufi Profi , OXXI and many others. We also offer a variety of products for nails : tools , router , nail lamps and more. To order, call one of the indicated numbers presented on our website, or visit our showroom in Kyiv. We deliver goods not only in Ukraine, but all over the world.
Frequently asked Questions