Disposable files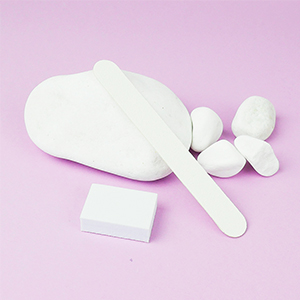 Manicure is a trifle procedure? Not at all. Unfortunately, a trip to the salon may not end very pleasantly if specialists do not use disposable files for each new client and do not disinfect working devices. Because of this, you can get dangerous viruses in addition to manicure. A set of disposable files will help you make a safe, perfect and flawless manicure . Therefore, pay attention if the master does not have disposable files and orange sticks (although this is a prerequisite), take your personal tools to the nail salon.
A disposable nail file is a special manicure tool that is designed to create the shape of a nail and file sharp edges. Such nail files have a metal, cardboard or wooden base, as well as convenient replaceable abrasives of different hardness, shape and structure.
Variation in abrasiveness
Disposable files have such replaceable abrasives and to choose a file for sawdust nails, pay attention to its abrasiveness.
from 100 to 150 grit. It is used mainly for sawdust of an artificial nail, as well as for creating its shape.
from 150-240 grit. Suitable for the final filing of an artificial nail. Also, the nail file must be made of high quality material; when used, it should not bend and wear out instantly.
Rules for filing nails
Manicure with tools can only be done on dry nails;
Carefully select a nail file according to its abrasiveness and material;
Nails can only be cut in one direction, otherwise the nails will peel and weaken.
Make a slight angle of inclination when filing and direct the tool from the edge to the center of the nail;
When filing nails, do not put pressure on them;
Do not exceed movements on one nail, the optimal number is ten;
Do not treat at the base of the nail, as this may cause infection;
File your nails regularly, a couple of times a week.
Nail filing technique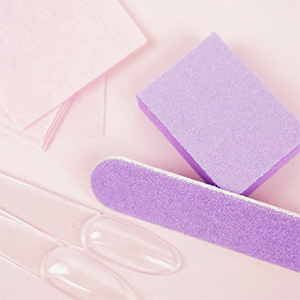 It is very important to file your nails correctly, because if you do not do it correctly and carefully, this can lead to a deterioration in the appearance and weakening of the nails.
There are a huge number of different nail shapes, for this reason, first decide which shape you would like. Each hand will fit a certain model of the nail. Owners of thin long fingers can wear both short and long nails. But with short fingers, it is preferable to refrain from wearing short nails, although they are currently in fashion. With long nails, short and knotty fingers look refined and delicate. In addition, pay attention to the condition of the nails. The most fragile form is pointed. If the nails are in poor brittle condition, then it is preferable to stop at an oval or square shape. And make sure your nails are the same length. Nails of various lengths look vulgar and careless. The optimal length of the nail, which will suit absolutely everyone, is 6 millimeters.
Before filing nails, they need to be trimmed, which can be helped by nail clippers. And then take the file so that the thumb is under the surface of the file, and the rest of the fingers are above its surface. Do not strain your hand, all movements should be gentle and soft.
How to file nails, depending on the required shape.
A square shape with rounded corners is done on nails of short or medium length. Start filing the edge of the nail, moving from the middle to the edge. Give a straight horizontal line in the middle. Round the corners proportionally.
The shape of the oval, on the contrary, must be filed from the corners. Give them the necessary shape and carefully combine the roundings in the middle of the nail. The oval shape visually makes the fingers longer.
The pointed shape is a rarity today. But, in order to complete it, it is necessary to file the sides of the nail to the middle until the desired shape is obtained.
The square shape is the simplest. You just need to file the middle of the nail along a horizontal line, sand the corners a little so that they do not scratch. You don't need to round.
Where to buy disposable nail files?
Every girl in the arsenal has such a manicure tool as a file. In order to create an excellent and wonderful care, it is simply impossible to do without a nail file. You can buy a nail file with replaceable abrasives of excellent quality in our TUFISHOP online store. The Tufishop store offers a large selection of nail files with different colors, abrasiveness and shapes. To place an order, you just need to call the numbers indicated above or leave a request on the site. In addition to nail products, there are various products for creating a delightful manicure: gel polishes , primers , cuticle softener , orange sticks , baths, brushes, etc.
Frequently asked Questions