Foundations and replacement files for manicure
Removable files and bases for a file - manicure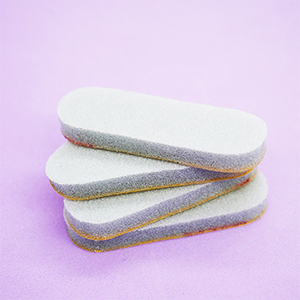 Progress does not stand still. An increasing number of nail specialists prefer a nail file with interchangeable files. A nail file with replaceable abrasive is a professional manicure tool consisting of two elements: a metal base and adhesive abrasive files. In fact, only abrasive is disposable here, which is attached to the base of any shape and then just as easily removed when it needs to be replaced. The file-base with interchangeable files is made of medical impact-resistant steel, is remarkably disinfected, has a unique design - all this makes the file with interchangeable files simply an indispensable assistant for a nail master. Safety is one of the main aspects of the work of a manicurist. Disposable consumables and careful, three-stage processing of the instrument help protect yourself and the client from possible infection, prevent the spread of conditionally pathogenic bacteria. In addition, it is convenient to carry interchangeable files for saws with you in order to correct the shape of the nail at any time or eliminate the consequences of breaking off. For professional craftsmen, removable files are a great find. You no longer have to worry about regular disinfection of the instrument, because after each client, the base is now simply replaced. This saves a lot of time for the craftsman.
The main advantages of replaceable files for files are:
safety and hygiene;
reducing the risk of infection with infectious and fungal diseases;
the ability to show with the help of the tools used that the master is a professional and can be trusted;
low cost;
convenience and ease of use;
due to the double-sided coating of the correct abrasiveness, they guarantee a delicate and gentle manicure for the nail plate;
suitable for both manicure and pedicure;
perfectly file the nail, give it the desired length and shape;
The bases on which removable files are glued are:
metal bases for files (various convenient shapes)
wooden bases for sawing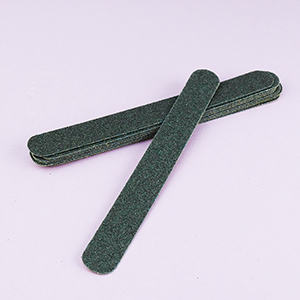 Types of files with interchangeable files are both on a soft basis with a glued abrasive and multilayer files. Files may vary in shape, degree of abrasiveness and thickness. The stiffness of a removable file , measured in grits, is called abrasion. The amount of grit is an indicator of how suitable the file is for delicate work with the nail plate.
Usually files have the following parameters:
80 grit - the toughest specimens;
100 grit - a tool with very high rigidity, suitable for artificial nails;
180 grit - files used to shape natural nails;
240 grit - these are already files of medium, but softer abrasiveness, they are designed for accurate work with natural nails;
320 grit - soft buff files, they are used for such work with natural nail plates, such as polishing; It is more convenient to produce a high-quality design of the client's nails with files with an abrasiveness of 240 grit.
An equally important criterion is the thickness. Thickness varies:
files without a foam base - suitable for processing the edges of extended nails, or such graters are used for pedicures;
files on thin foam - used to work with natural nails, with such files the risk of damage and delamination of the nail plates is minimal;
thick foam tool - used for grinding and polishing.
Buy replacement files and bases for files
You can buy bases and replacement files for a nail file and files for saw blades in the TUFISHOP online store, this is the best choice. The TUFISHOP online store presents just a huge amount of high-quality manicure products: gel polishes, nail files, buffs, gel paints, gel nail extensions, liquids, manicure lamps, etc. If you are planning to purchase replacement files and equipment for creating a beautiful manicure, please contact the TUFISHOP Store or our online store, here you will always be helped and prompted with the choice. Delivery of goods is carried out not only in Ukraine, but also around the world.