Professional nail scissors — the main manicure tool
Nail scissors are a type of small scissors specifically designed for cutting nails. These scissors are available in a variety of designs and styles, each with its own unique features to suit different needs and preferences. The size, length and quality of the manicure scissors determines the end result and the subsequent wearing of the entire manicure.
Professional nail scissors — different types
Nail scissors are a type of small scissors specifically designed for cutting nails. They come in a variety of designs and styles, each with its own unique features to suit different needs and preferences.
One of the most popular types of nail scissors is the standard nail scissors, which features a straight cutting edge and a pointed tip. This design allows for precision cutting and is suitable for most people.

Another type of nail scissors is the curved nail scissors for hard nails, which features a slightly curved cutting edge. This design is perfect for people with difficult-to-cut nails and allows for more control when cutting.

There are also specialized nail scissors such as the ingrown nail scissors, which are designed to cut ingrown nails. They have a thin, sharp blade and a pointed tip that can reach difficult-to-cut areas.

For people who have trouble gripping small items, there are also large handle nail scissors, which have a larger handle for a better grip. They are perfect for people with arthritis or other conditions that make gripping small items difficult.

For people who prefer to have a file or a buffer attached to the scissors, there are also nail scissors with built-in file or buffer. This design allows for quick and easy shaping and filing of the nails after cutting.

Another kind of nail scissors are the left-handed nail scissors which are specially designed for left-handed people, these scissors have a reversed design so that left-handed people can use them comfortably.

Finally, there are also travel size nail scissors, which are compact and lightweight, making them perfect for taking with you on the go.
How to choose nail scissors for cutting nails
At this time, there is a very large selection of scissors, so buying nail scissors will not be difficult. The very first thing to do is to decide for what purpose you need scissors. A good manicure scissors differ in their shape, and therefore in purpose. For example, straight-tipped nail scissors are used to cut and shape nails. Appropriate cuticle scissors have thin blades rounded at the ends. This form allows you to easily and quickly remove the cuticle on both hands. But there are also universal scissors for manicure: such tools have narrow blades with a slightly curved upward shape and are great for cutting the cuticle and cutting the nail plate. Therefore, it is best if your manicure set has scissors for both nails and cuticles.
Manufacturers of good nail scissors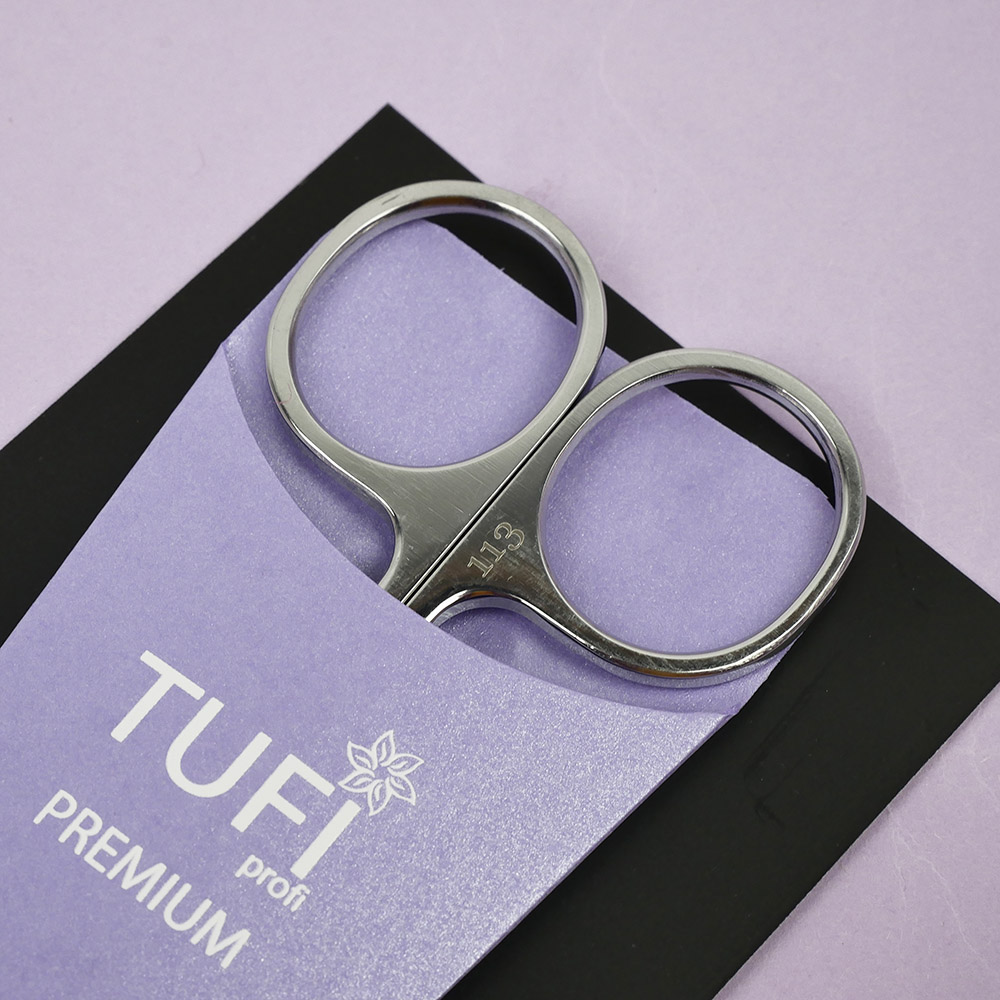 TUFI profi. Scissors of Ukrainian brand are distinguished by their quality and durability. Manicure scissors will keep your hands in order and thanks to their super-sharp sharpening, they will cope with their main task without any problems.
Olton. Olton manicure scissors are professional tools. Due to their excellent quality and reliability in use, they are very popular with many manicure masters and not only. Using Olton products, each manicure or pedicure procedure will be safe, and you can not be afraid that you will injure the client with blunt scissors.
Staleks. A well-known Ukrainian manufacturer of manicure and pedicure tools, which has been presenting its products on the market for more than twenty years. The material from which Staleks instruments are made is high-quality surgical steel, thanks to which Staleks instruments do not cause allergies and can be disinfected. Reliability is an important feature of Staleks products, starting from the design stage and applied to each individual component. Therefore, products such as nail scissors meet all quality standards and are able to perform any task.
Manicure scissors — available online
A high-quality manicure and creation of a beautiful design requires good skills from the nail artist, as well as high quality of various tools and materials for manicure. Cosmetic scissors or scissors for hard nails are available at the TUFISHOP online store, so any nail stylist has the opportunity to shop from anywhere and enjoy the high quality of the offered items and customer service. It is possible to place an order at any time, so it is a great alternative to traditional shopping.
After ordering from the TUFISHOP online store, it is possible to make payments online: using PayPal and Blue media (BLIK recurring payments; Pay by link; Payment by card; Electronic wallets; Online installments; Recurring payments; Google Pay; Apple Pay; Visa Online transfers). You can also pay by cash on delivery when you select delivery by courier DHL. Be sure to prepare the appropriate amount of money - this will avoid a situation in which the courier will not be able to give you the rest.
Delivery of orders is carried out throughout Poland via:
DHL - pickup point from 8,00 PLN, bank transfer from 9,90 PLN, cash on delivery from 11,90 PLN. International DHL delivery from 61 PLN.
InPost - pacztomat and courier service (no payment when ordering from 200 PLN), delivery 1-2 days.
Poczta Polska - from 10,99 PLN (no payment when ordering from 100 PLN). International delivery from 60,99 PLN.
A high-quality and beautiful manicure will always be the decoration of your hands! Order nail scissors for cutting nails now, pick up at your address in a moment and enjoy your shopping!
Frequently asked Questions