TUFI profi PREMIUM Sea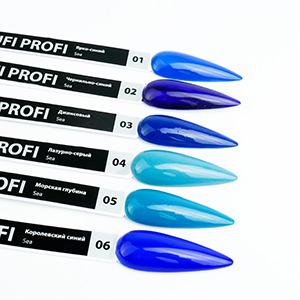 TUFI profi PREMIUM gel polishes are a well-known brand and these products are popular among fashionistas who love their nails to be beautiful, as well as masters who create these beautiful nails. Tufi Profi gel polishes are of very good quality and at the same time affordable price for everyone. All materials of these gel polishes are made from environmentally friendly components and comply with safety certificates. The color palette of these gel nail polishes is very wide, everyone can choose a shade for their image or mood. In addition to all this, gel polishes of this brand are very easy to apply and stay on the nails for a long time.
Features of TUFI profi PREMIUM gel polish
Wear resistance. With TUFI profi PREMIUM gel polishes, you can forget about cracks and chips, it is well worn and resistant to damage.
In its composition, gel polishes have a rich pigment, which ensures the brightness of colors for the entire time of wearing.
Classical application and a comfortable brush, do not create discomfort in the robot with gel polishes, application does not take much time.
It is well removed, additional sawing is not required.
A huge palette of colors and shades.
Does not have a strong odor after application and drying in a nail lamp
TUFI profi PREMIUM has developed for you the Sea palette with delightful blue and wonderful soft blue shades . Get inspired and experiment with us, regardless of the season outside the window.
The Sea color palette by TUFI profi PREMIUM is 13 perfect, noble marine shades, it is the sound of the surf and scarlet sails, it is the color of the summer sky and cornflower blue field, it is the bright blue of Moroccan patterns and houses of Santorini. Deep shades hurt in the heart. Pairs perfectly with cruise-inspired clothing.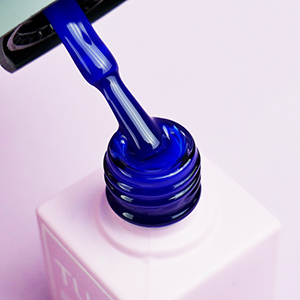 Coating in blue tones is relevant at any time of the year and in any situation. The main thing is to choose the shade of gel polish and choose the design that suits the occasion. Blue color gel polish has become an excellent alternative to the classics. The great advantage of this color is its versatility, namely the presence of many interesting shades. This color is universal, it can be used for both everyday and festive design, and if you experiment with shades, you can easily pick up a beautiful color scheme that will be appropriate for both spring and summer, and for autumn and winter. You can transform the coating with a matte top , in addition, the blue color with a fine shimmer in the texture will look irresistible.
Features of the Sea palette from TUFI profi PREMIUM:
complimentary, combined with other palettes;
universal, shades are suitable for everyday and evening looks;
trendy, blue color declared by the Pantonre institute autumn-winter 2021.
the palette contains all the bestsellers of the colors of the sea.
The optimal consistency and saturation of the coating ensures its economical consumption, gel polish easily and evenly falls on the nail plate, does not spread and does not flow behind the side rollers during application. The Sea palette has a dense pigment that does not fade or turn yellow. Gel polish does not contain harmful elements and does not have an unpleasant odor.
Where to buy TUFI profi PREMIUM gel polishes?
You can buy gel polishes in our online store. All products are of high quality and excellent properties. We work only with trusted suppliers. You can also buy everything for nails from us: decor , manicure tools , drying lamps , removers and other equipment. We ship goods not only in Ukraine, but all over the world. Call us right now. We are waiting for your call.