TUFI profi PREMIUM Ice baby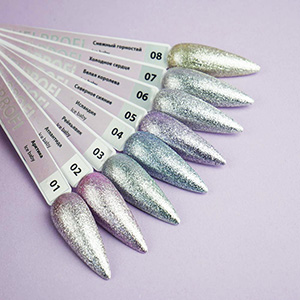 Gel polishes for nails today are very popular among manicure masters. After all, a huge number of girls prefer their nails to be neat and beautiful. Gel polish helps to make dreams come true, making nails beautiful. Gel polishes fit well on the nails and retain their integrity for 3 weeks.
TUFI profi PREMIUM is one of the few brands of gel polish that keeps up with the times and develops, striking with its uniqueness and brightness. All products are made at a high level, including all possible devices for nail design. Among the nail masters, he took one of the main places on his desktop. And this is not surprising, because Tuffy Profi varnish has a very good quality and affordable price.
Gel polishes consist entirely of high-quality gel with a soft and comfortable brush. Due to the fact that the composition of the gel polish does not contain resins, vegetable and other toxic chemicals, the coating does not dry out the nail, but on the contrary strengthens and nourishes it. As the experience of satisfied customers shows, after using TUFI profi PREMIUM gel polish, the nails become longer, stronger, stop peeling and chipping.
An important characteristic is that gel polishes are odorless and therefore do not cause allergic reactions, burning sensations or discomfort during drying. The coating will please with its long-lasting effect, which will last over 20 days and will please even the most picky customers. The range of gel polishes includes various variations for both everyday nail art and significant events:
Gel polish Tuffy pro has the following positive features:
manicure with varnish looks very beautiful and expensive;
about 200 bright and saturated shades for every taste, which do not change their color during wear;
gel coating protects the manicure from external damage, such as: scratches, various chips and external conditions;
recognition of masters: a large number of nail masters are satisfied with the quality of Tuffi pro lacquer products;
a convenient brush that retains its integrity for the entire time of using the gel;
g El-lacquer Tuffy pro is well applied, leaving no unevenness on the surface.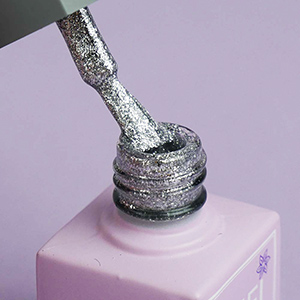 TUFI profi PREMIUM presents a new trendy line of gel polishes with a sweat effect called Ice baby. A convenient bottle and a high-quality brush guarantee an even distribution of the varnish over the entire nail plate, without leakage and gaps. Gel polish Tufi pro has a durable coating, does not crack, does not roll, provides application with ease and pleasure.
TUFI profi PREMIUM Ice baby - a collection of gel polishes with the effect of platinum and gold leaf. This is Hollywood if you are blonde and used to shine. Or glam rock , if you are a brunette, love black leather and steel. But, whoever you are, one thing is clear: such a woman needs to be won and achieved. This is a "cold baby" who knows his own worth.
Ice baby palette features:
Glamorous, luxurious, trendy palette;
Includes platinum glitter gel polishes.;
Persistent;
The unique chemical composition allows the gel to be applied easily and quickly;
The varnish does not crack and does not grow dull up to three weeks;
A rich range of colors will satisfy any request;
It dries quickly in a lamp and is removed without cutting.
Buy gel polish TUFI profi PREMIUM
You can buy gel polish in the
TUFISHOP online store.
Our store has a huge range of products for the procedure of coating nails. Here you will find:
nail files
,
various lamps
,
gel polish removers
,
orange sticks
, etc. Delivery of goods is carried out worldwide. Also visit our stores, where you can get acquainted with the products closer and please yourself with a new shade of varnish.