TUFI profi PREMIUM Diamond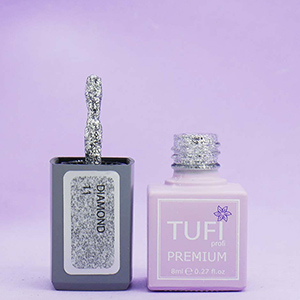 Gel polishes are so popular among girls nowadays that it is already difficult for their manufacturers to surprise with any new products. The manufacturers of TUFI profi still managed to create a product that has a future. The TUFI profi brand produces high-quality gel polishes and pleases with a large assortment. Gel polish TUFI profi PREMIUM helps to make dreams come true, making nails beautiful. Gel polishes fit well on the nails and retain their integrity for 3 weeks. A sufficient number of colors and shades will make the most original fantasies come true. All products are made at a high level, including all possible devices for nail design.
Features of TUFI profi gel polish
TUFI profi gel polishes have appeared on the market quite recently, but have established themselves as a high-quality manufacturer. TUFI profi gel lacquers are a gel in which color pigments and different types of glitter are added. This gel polish polymerizes very quickly in the lamp, which will save time. Due to its density, TUFI profi gel polish does not weigh down the nail plate. Also, the varnish does not contain harmful substances that can cause allergies . TUFI profi gel polishes have a huge palette of more than 200 hundred colors, which contain different textures such as enamel and glitter. Thanks to the color scheme, not a single master and not a single fashionista will pass by, because TUFI profi gel polishes are so bright, juicy and original that it will not be difficult to experiment and fantasize. The expanses of the Internet are full of many materials that will help modern girls bring to life a fashionable beauty trend - glitter coating. Such a manicure will be relevant for a festive event, and for everyday style. Glitter gel polish from the TUFI profi brand will help you test the trendy coverage.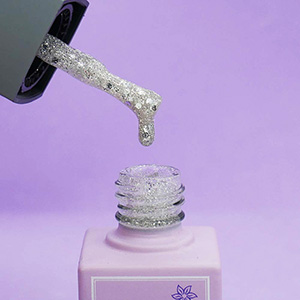 TUFI profi PREMIUM presents a new trendy line of glitter gel polishes called Diamond . A convenient bottle and a high-quality brush guarantee an even distribution of the varnish over the entire nail plate, without leakage and gaps. Gel polish Tufi pro has a durable coating, does not crack, does not roll, provides application with ease and pleasure.
TUFI profi PREMIUM Diamond is a series of trendy gel polishes with holographic and large glitters . Designed for bright girls who know how and love to stand out. A high concentration of lustrous pigments creates a unique look. In summer, your nails in the sun with TUFI profi PREMIUM Diamond gel polish can be seen from afar.
Diamond Palette Features:
Glamorous, luxurious, trendy palette.

Wealth and variety of sequins.

Suitable for a festive look.

Economical in consumption due to its density and high pigment capacity. The nail plate can be covered with one layer.

It is very good to wear for three weeks, while not harming your nails. Retains color for a long time and is resistant to damage.
Buy gel polish TUFI profi PREMIUM
You can buy Tuffy Profi gel polish in the TUFISHOP online store . Our store has a huge range of products for the procedure of coating nails. Here you will find: nail files , various lamps , gel polish removers , orange sticks , etc. Delivery of goods is carried out worldwide. Also visit our stores, where you can get acquainted with the products closer and please yourself with a new shade of varnish.