New cool gel polishes TUFI profi PREMIUM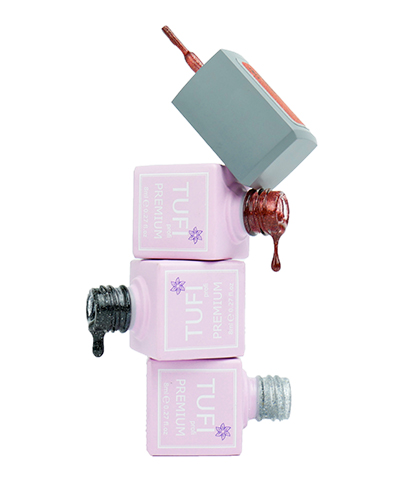 TUFI profi PREMIUM are European quality products. This TM is chosen by professionals who know the market and prefer only the best. Gel polishes are distinguished by decent durability and high aesthetic properties. Within 2 weeks, the coating retains the relevance of the color, and your nails look well-groomed and spectacular.
Every modern manicurist knows how important it is to purchase quality materials. After all, this is not only a guarantee of obtaining a beautiful result that meets expectations, but also a guarantee of long-term, reliable wear and a high probability that the client will return to this master. TUFI profi PREMIUM gel polishes have earned the love and recognition of many experts, and their wide palette allows even the most picky customers to choose a shade to their liking.
A premium line for beauty makers who value their client and love working with beautiful, durable material.
This line was born two years after the introduction of the baseline.
We selected the best materials, then interviewed manicure masters, technologists - and developed a new formula that takes into account the wishes of professionals.
TUFI profi PREMIUM is a style in design; beauty trends in colors; opportunity to create!
Lavender bottle of TUFI profi PREMIUM gel polishes combines graphic clarity and matte tenderness of candied violet petals. The concept embodies the modern woman. On the one hand, this is a whole, emotionally stable personality, and on the other hand, an eternal girl, a sophisticated lover, the goddess of TUFISHOP!
The new professional collection TUFI profi PREMIUM is presented in a new lavender jar that will make you fall in love with you at first sight.
The composition of the components is designed so that gel polishes do not spread over the nails, do not flow under the cuticle and side ridges, but at the same time allow you to create a neat, even coating. The peculiarity of the varnish is a special fortified composition, which favorably affects the nail plates.
Gel polishes for professionals
The current gel polish market is represented by an abundance of brands, but thousands of experts choose TUFI developments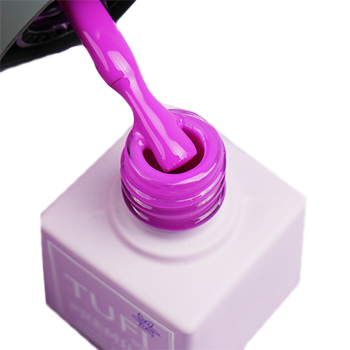 profi PREMIUM because of their many advantages:
durable coating that does not lose color, shine for two to three weeks, with low susceptibility to chipping and delamination;
does not destroy the nail plate;
many popular shades: bright and nude, with different effects;
a unique safe formula, developed taking into account the individual characteristics of nails of different types;
optimal ratio of reasonable price and high premium quality;
dense consistency, excellent leveling characteristics, economical consumption;
comfortable, ergonomic brushes, the shape and bristles of which allow you to work with designs of any complexity;
pleasant aroma.
How to use gel polishes:
We give the nails the necessary shape and length, remove the natural gloss.
We carefully treat the nail surface with a special degreaser .
It is recommended to apply ultrabond (acid-free primer) only if the nails are prone to delamination and there are problems with wearing gel polishes.
We apply the base , dry it in an ultraviolet lamp (in LED / LED + CCFL - 30 seconds, in UV - 2 minutes).
We apply the selected shade of TUFI profi PREMIUM gel polish in 2-3 layers. It should be applied thinly, the brush in gel polishes is soft, you can't put pressure on it when applying (to avoid bald spots), the strokes should be soft, as if you were stroking the surface of the nail. We dry each layer in an ultraviolet lamp (in LED / LED + CCFL - 30 seconds, in UV - 2 minutes).
Cover with top . We dry in an ultraviolet lamp (drying time depends on the type of top, on average in LED / LED + CCFL - 1 minute, in UV - 2-3 minutes). After drying, allow the top to cool slightly for 30-60 seconds.
We remove stickiness with a special liquid. It is recommended to additionally apply caring cuticle oil to the periungual skin.
Buy TUFI profi PREMIUM gel polishes
You can buy gel polishes in the TUFISHOP online store. Our store has a huge range of products for the procedure of coating nails. Here you will find: nail files, various lamps, gel polish removers, orange sticks, etc. Delivery of goods is carried out worldwide. Also visit our stores, where you can get acquainted with the products closer and please yourself with a new shade of varnish.