Gel polishes Kodi (Kodi)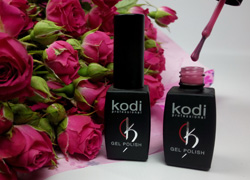 Kodi is a brand that conquered not only the territory of Ukraine, but also foreign countries. Gel polish Kodi is a clear leader in the gel polish market. Every girl wants to pamper her hands with a new manicure, but it is difficult to find really good materials. TM Kodi has created high-quality products and has proven itself only on the good side. Kodi gel polishes have become favorites among nail design masters. You can easily buy gel polishes in any color in our online store Tufishop gel polishes. Kodi gel polish is worthy of choice, as evidenced by their wide selection of Kodi gel polish colors and a large selection among other products in the nail industry. Kodi gel polish is worth trying to work with.
All about Kodi gel polishes
A feature of Kodi gel polish is a fairly stable base, it consists of a polymer of natural origin, which is not afraid of alcohol, acetone, or water. Also, Kodi does not contain chemicals and has a non-viscous texture that both the master and the beginner can handle. Due to its durability , Kodi gel polish outperforms many gel polishes, since it is not afraid of any mechanical damage and you can freely change the coating after three weeks. The surface of Kodi gel polish does not crack, scratch or fade over the entire period of wear. Kodi gel polish is a good and worthy choice of professionals. And kodi professional is a worthy and very well-known manufacturer. It is possible to pick up a whole kit to create the perfect manicure, because TM Kodi took care of it and prepared everything you need:
Top kodi
Color coatings, etc.
With the help of such a collection of materials it is possible to create an unreal masterpiece for a long time. Kodi gel polishes will not interfere with a pungent smell, because they don't have it at all, and what 's convenient about gel polish for nails is that it doesn't thicken and deteriorate over time until its expiration date. Also , Kodi gel polish is equipped with a convenient wide brush that covers the entire nail at once in two strokes. With LED lamps , code gel polishes are in the best relationship, so feel free to dry your nails. The colors of Kodi gel polishes are simply unrealistically fascinating, with such an assortment, not every gel polish can boast of such a palette.
Kodi gel polish palette
In addition to the color range, which consists of 250 shades, there are also varieties of gel polish types.
Thermal varnishes . The color changes with the influence of temperature, creating an ombre effect.
Cat's eye . Contains pigmenting elements that, under the influence of a special magnet, create a glare of color and give the effect of a "cat's eye"
Hollywood . Designed to create a metallic effect design, one of the most interesting types of Kodi gel polish
Stained glass . They differ in a special depth of color and provide a manicure with unusual brightness.
The main color range of Kodi gel polishes will allow fantasy to play in all directions, mix, mix and achieve exactly the color that is needed for the design.
Gel polish drawings
Let's look at what is needed for drawing gel polish on nails. Very often you can hear the opinion that gel polish looks beautiful on nails only if it is applied in one color. Actually it is not! Cody gel polishes are able not only to hold out on nails for a long time, but also with their help, it is possible to arrange a beautiful manicure with beautiful drawings. If you get tired of the drawing on the nails, then it can easily be replaced with another one. What is usually needed to create a beautiful design on nails using gel polish:
buff for removing the top layer of the nail;
base coat;
gel polishes of different colors;
top coat;
different brushes for drawing;
additionally, you can purchase decorating materials (foil, rubbing, glitter, etc.);
dots .
Technologies for applying gel polish have been studied for a long time, it is already worth moving to the highest level and learning how to create masterpieces on nails. Let's look at a few options.
Option one. This option will not take much time and will not be difficult, even for those who have not been involved in the early creation of beautiful drawings on the nails. To work, you will need dots and a couple of gel polishes, the choice of color is already up to you, you can combine two more colorful colors, such as black and red, you can take more delicate pink, beige in combination with white, for example. Drawing is recommended not to be done on all nails, it looks best on two, for example, on the middle and ring fingers. Cover two nails with white, the rest with pink, dry them using a nail lamp, and then get rid of the sticky layer using a special tool. This is done so that the varnish for the picture is not smeared. On white nails using dots, you can make a beautiful bitmap with pink varnish, or whatever you see fit. Choose the size of the circles yourself, it all depends on your imagination. The main component of efficiency will be the frequency of dot placement, the thicker they are, the prettier the nail will look. At the end, dry everything in the lamp. A very simple manicure, but it looks spectacular and attractive.

Second option. The essence of this manicure is painting on a wet surface of gel polish. For this manicure , you can also use dots or a thin brush. Here already the choice depends on who is comfortable with what to work with. The choice of gel polishes again depends on you. Having covered the nail, for example, with red gel polish in one layer, it should be dried in a lamp. Then, using other colors, such as gold and black, apply thin or thicker strips to the nail. Using dots or a brush, start mixing varnishes, in zigzag movements. Get beautiful and very fast. And most importantly, it does not require any special skills. The result obtained on the nails must be dried in a lamp and covered with a top coat.
Where to buy Kodi gel polish ?
On the TUFISHOP website, you can always buy kodi lacquer and everything you need for proper nail care. The best Kodi gel polish palette of high quality and at an affordable price - only in TUFISHOP and only for you. Also, you can now buy Kodi gel polishes in Cherry at the most pleasant prices.
Frequently asked Questions