Komilfo — a leading manufacturer in the nail design industry
A high-quality manicure and the creation of beautiful designs on the nails requires knowledge and skill on the part of the nail stylist. It also requires a large number of different manicure materials and products. Komilfo brand is a manufacturer of various manicure and pedicure products of the highest quality. The Ukrainian brand has its own production in Ukraine and has been on the market of the nail styling industry since 2014.
The company uses raw materials from Ukraine, Europe and the USA, and has quality certificates that guarantee compliance with the standards of Ukrainian legislation and more.
Komilfo nail gel polishes — products appreciated by nail stylists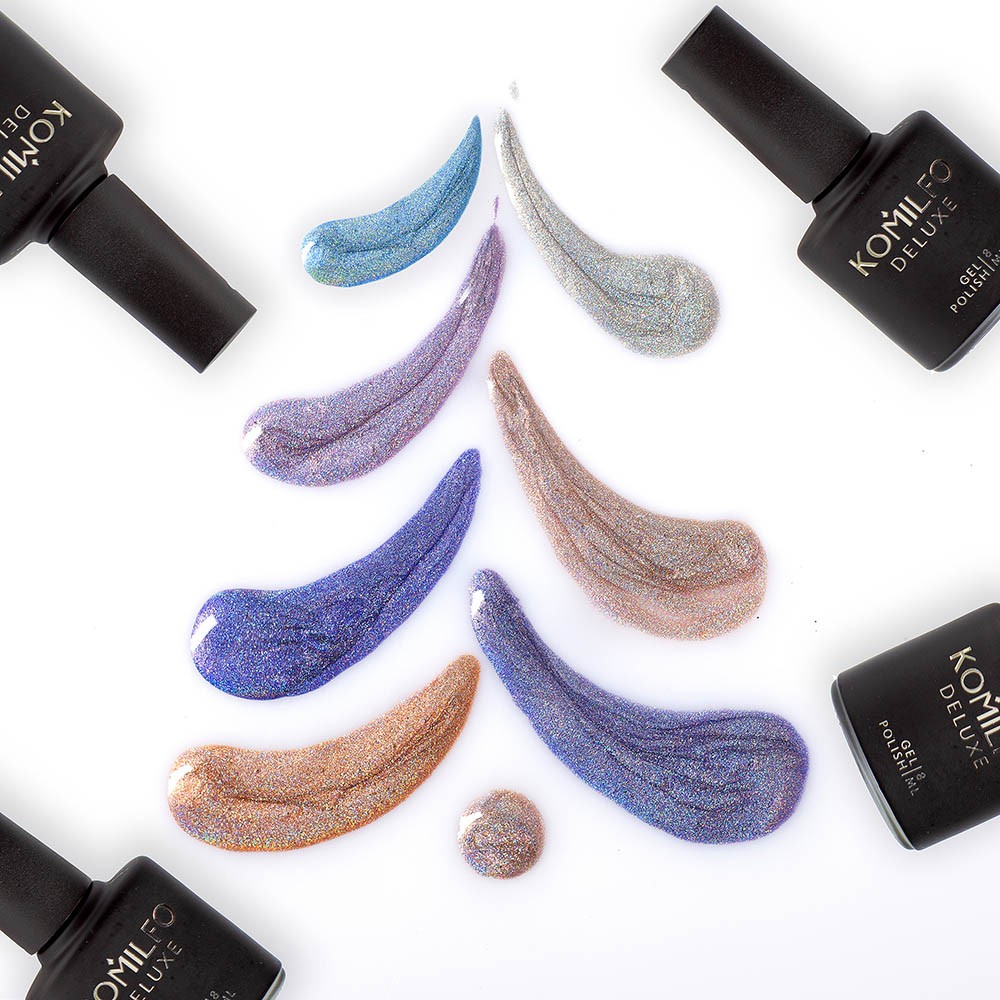 Nail gel polishes Komilfo are characterized by high quality, safe composition, high pigmentation, resistance to all kinds of damage and last on the nail plate for up to 3-4 weeks. The brand has 10 different collections of Komilfo gel polishes in its arsenal, with more than half a thousand different shades. The colors are so diverse - from pastels and soft shades to neon and reflective ones. Every nail stylist and customer will be able to find shades to suit their needs and enjoy a beautiful manicure.
During the production of Komilfo hybrid gel polish, not only the quality of materials and properties of the final product were taken into account, but also the smell, the shape of the brush in the bottle, the tightness of the gel polish formula, the speed of curing, the external design and packaging.
Komilfo's basic collection of gel nail polishes includes 320 shades, which can satisfy every customer's needs and help her find "that right shade of red." Additional shades of gel nail polish are available in seasonal collections, which allow you to create the desired effect for different events or moods:
Dusk Collection - dusky, saturated polish colors.
Deep Autumn - perfect for the autumn mood.
Inspired By Nature - natural shades close to nature.
OFFROAD - bold colors that emphasize the independence.
SBL - pastel summer nail gel polish.
Gel polish Komilfo — method of application:
Gel polish Komilfo should be applied to a properly prepared nail plate. First, remove the old coating, file and shape your nails, remove the cuticle with an orange stick and a cuticle remover, buff the nails using a buffing block, just to remove the shine, and then disinfect the nail plate.
After preparing the nail plate, apply a thin layer of base coat, in order to obtain good adhesion Komilfo nail gel polish and keep on longer.Cure under a UV lamp for 120 seconds or under an LED lamp for 60 seconds.
The Komilfo gel polishes collection includes a wide variety of colors, so the next step is to choose and apply the desired shade of gel nail polish. Then cure under a UV lamp for 120 seconds or under an LED lamp for 60 seconds. When applying the second coat, repeat the process.
At the end apply the top coat, cure under a UV lamp or LED-lamp.
If necessary, remove the sticky layer with a special liquid. In conclusion, apply cuticle oil.
Nail gel polish Komilfo — available online
High-quality manicures and the creation of beautiful designs require a nail stylist to be well qualified, as well as high-quality various manicure tools and materials. Excellent quality gel nail polishes from one of the top manufacturers in the nail design industry, Komilfo, are available at the TUFISHOP online store, so any nail stylist has the opportunity to shop from anywhere and enjoy the high quality of the offered items and customer service. It is possible to place an order at any time, so it is a great alternative to traditional shopping.
After ordering from the TUFISHOP online store, it is possible to make payments online: using PayPal and Blue media (BLIK recurring payments; Pay by link; Payment by card; Electronic wallets; Online installments; Recurring payments; Google Pay; Apple Pay; Visa Online transfers). You can also pay by cash on delivery when you select delivery by courier DHL. Be sure to prepare the appropriate amount of money - this will avoid a situation in which the courier will not be able to give you the rest.
Delivery of orders is carried out throughout Poland via:
DHL - pickup point from 8,00 PLN, bank transfer from 9,90 PLN, cash on delivery from 11,90 PLN. International DHL delivery from 61 PLN.
InPost - pacztomat and courier service (no payment when ordering from 200 PLN), delivery 1-2 days.
Poczta Polska - from 10,99 PLN (no payment when ordering from 100 PLN). International delivery from 60,99 PLN.
High quality and gorgeous manicure will always be a jewel of your hands! Order Komilfo gel polishes now, pick up at your address in a while and enjoy your shopping!