Diamond cutters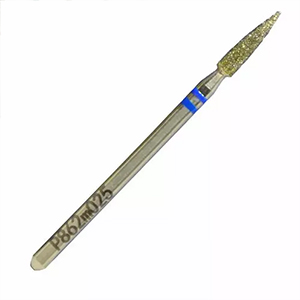 Cutters are made from diamond grit, which is made from artificially grown diamonds. Industrial diamonds, like natural ones, have high hardness. Tools made from this material vary in degree of abrasiveness and shape.
Diamond cutters for hardware manicure and pedicure are produced in two ways:
sintering (a mixture of fine diamond fraction and glue can be heat treated). Perfectly process the hardest surfaces - acrylic nails.
precipitation (by electrolysis of stone chips). They are used both for sawdust of acrylic and gel, and for the nail itself.
For certain types of work, nozzles of different types are used:
Ball or needle - convenient for processing nails in hard-to-reach places, "opening" the side rollers, removing keratinized skin;
Boron - this type is effective if the issue has become getting rid of pterygium on the nail plates;
Cylinder - if correction of the shape of an artificial nail is required, the elimination of corns, calluses, as well as cracks. This type is the most effective in eliminating the above problems.
Spear shape - effective when sanding the canvas, removing residual nuances of acrylic or gel decorative coating, as well as processing side ridges, cracks and corns.
Tapered milling head - if simple grinding and polishing of the nail plate is required, this head is the most convenient.
What is the hardest material? The answer to this question is known to many! This is a natural and artificial diamond. Therefore, it is not surprising that this material is used in the production of nail tools. Also, this material has a long service life, which will allow you to use it for a very long time.
Abrasiveness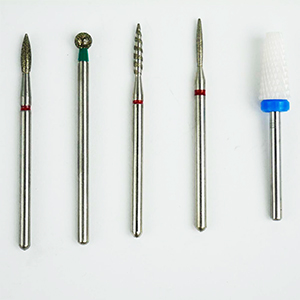 There are 5 types of nozzle grit - from fine to coarse. The softest ones have a yellow notch , the soft ones are red, the medium ones are blue, the rough ones are green and black. Most often, you will need cutters of medium abrasive (blue) for work, they are the most popular with craftsmen. For some types of work, soft ones are also useful, and very rarely, rough ones.
Technology of hardware manicure with a diamond cutter
The diameter of the diamond-coated nozzle is equivalent to the size of the working part. This is a position of convenience, and each nail stylist has his own preferences: it is more convenient for someone to use a large diameter cutter , and someone is used to using compact elements for pedicure and manicure.
The technology is represented by a complex algorithm consisting of a number of stages:
Preparation of nails for manicure (washing, disinfection). Cuticle softening.
Cuticle processing from side rollers (needle cutter) with a rotation speed of up to 12,000 rpm. Lifting the cuticle without touching the nail plate.
Removal of cuticle residues with a cone cutter with a low level of abrasiveness at an angle of 45 degrees to the working surface (no more than 10,000 revolutions).
Grinding the cuticle with a bullet-shaped cutter (speed up to 12,000 revolutions and no more).
Applying oils and nourishing formulations to the cuticle.
Polishing.
Methods for cleaning diamond cutters
Diamond nozzles are sterilized according to the general rules: using disinfectant solutions, in a dry-heat cabinet. Cutters are immersed in a solution for cleaning manicure tools, the exposure time depends on the type of product (see information on the package). After that, in the same solution, we clean the tools with a special brush, rinse with running water for 1 minute. We remove excess moisture with a napkin and place the nozzles in a dry-heat cabinet, autoclave. For disinfection, storage and transportation of diamond cutters , metal trays with a lid can be used.
How to buy diamond cutters
If you are looking for the best manicure router , then you definitely need to visit the TUFISHOP online store. In us you can choose exactly the nail cutter that suits you, because in our store there is simply a huge selection of various cutters. We deliver goods throughout Poland. There is free delivery from 200 PLN. Buying a good manicure cutter is easy, you just need to place an order on our website or visit our store in Warsaw.