Ceramic cutters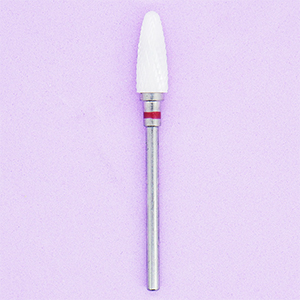 In the arsenal of a practicing nail service master there are dozens of diverse nozzles for a router. Each is designed to solve specific problems of hardware manicure and pedicure. The size, shape, abrasiveness, material determine the purpose and capabilities of a particular nozzle. Ceramic cutter for manicure is suitable for removing rough skin, burrs, processing nail ridges, removing gel-gel polish, forming the free edge of the nail. It is used by professionals and girls who take care of their nails on their own at home. The ceramic cutter has a low thermal conductivity, so it does not heat up the nail plate during operation, eliminating injuries, burns, and discomfort.
Other visible benefits of ceramic milling cutters include:
durability - teeth do not dull for several months even under conditions of intensive use;
safety - the technology for the production of ceramic cutters is not much different from the technology for manufacturing dentures or utensils. The basis is clay - a natural ecological material;
versatility - a ceramic cutter is suitable for working with artificial and natural nails;
easy waste - nozzles are easy to clean, suitable for disinfection by any available means;
reliability - buying a ceramic cutter means enlisting the support of a trouble-free assistant.
Forms and purpose of ceramic cutters
Processing with ceramic nozzles is usually carried out at the final stages of the pedicure and manicure procedure for grinding the skin and the surface of the nail plate after their initial processing with harder cutters. Depending on the shape and degree of grinding of ceramic chips, the nozzle has abrasive properties of varying degrees of softness and, accordingly, is used to treat different areas of the surface of the skin and nails.
Blunt end cutters - similar to a cone or cylinder, are used to clean the nail plate, lift the cuticle, remove gel polish.
Narrow-ended - come with a pointed or rounded tip, clean the lateral sinuses and the area under the cuticle.
Round - have the shape of a ball, their function is to clean the cuticle and polish it.
Shape of corn. Such a ceramic cutter makes it as easy as possible to remove gel polish or other artificial coating on nails, if you are in doubt whether to buy it, then it's worth saying that it will easily clean rough skin and give the nail a shape.
Ceramic tips: hard to soft
Yellow - the most delicate, soft, suitable for sensitive skin and detailed nail polishing.
Red - soft, suitable for skin and nail plate.
The blue serrated ceramic burr is a medium abrasive attachment that can easily remove gel polish. It is the most popular among craftsmen, as it performs many functions: stripping, grinding, removing the coating.
Green marking - a rigid cutter, has a large abrasive that removes gel and acrylic.
The cutter with a black notch is the roughest and most abrasive, suitable for processing extended nails or rough skin on the heels.
Advantages of ceramic nozzles
skillfully remove rough skin, delicately treat the cuticle;
allow you to completely remove gel polish and gel from nails in 5-10 minutes;
make it impossible to burn the nail plate;
do not provoke discomfort during removal;
do not cause allergies and skin peeling.
How to buy ceramic cutters
Looking for the best manicure and pedicure router , then you definitely need to visit the TUFISHOP online store. In us you can choose exactly the nail cutter that suits you, because in our store there is simply a huge selection of various cutters. We deliver goods not only in Ukraine, but all over the world. Buying a good manicure cutter is easy, you just need to place an order on our website or visit our stores in Kiev and in the suburbs of Kiev.