Carbide cutters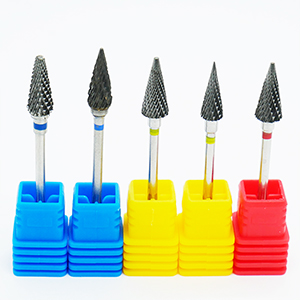 Hardware manicures and pedicures are very popular in the nail care industry. They are performed using a special apparatus with nozzles for grinding the nail plate and the area around it. This method is in demand, as it does not require pre-moisturizing or steaming the fingertips.
The correct selection of nozzles for a hardware manicure or pedicure will easily and painlessly make your nails well-groomed in the salon, as well as at home. Cutters are made from a variety of materials, have a different shape, and come in different types. Depending on all these factors, they perform different functions. Removable cutters are: diamond , ceramic , combined , as well as plastic , silicone , metal .
Features of carbide tips
As the name implies, they are made from especially hard alloys containing tungsten and other elements. Diamond grinding is used to form and sharpen the cutting edge. Such cutters for manicure are durable, productive, heat up much less during operation and have the following advantages:
the longest service life;
remain sharp for a long time;
not afraid of falls and other damage;
carbide cutters for hardware manicure are almost universal;
easily disinfected with solutions or thermally;
not subject to corrosion.
It is convenient to work with such nozzles, especially if you choose the right type of cutter for specific purposes.
When choosing carbide cutters for manicure , pay attention to the color of the strip on the nozzle rod - it will tell you about the abrasiveness and type of notch:
The red stripe on the cutter means a fine notch,
Purple stripe - medium cross-shaped notch,
The blue stripe is the middle cruciform, as well as the middle straight-transverse notch,
Green stripe - medium and large notch,
The black stripe is the largest notch.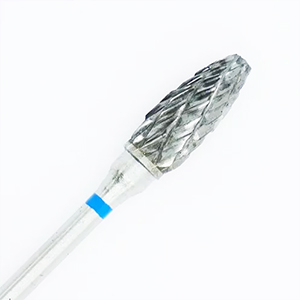 What types are used for what:
Cylinder - for the initial stage of refining natural nails or decorating their free edge, removing acrylic or gel, thinning the coating;
Rounded cone - for processing nail ridges and final processing of a natural or artificial plate;
Truncated cone - for working with the paraungual sinuses and removing excess gel from the back of the nail;
Needle - for manipulations with the feet and fine manicure work.
A carbide nail cutter can be conventional (rotation occurs exclusively clockwise) and reverse (rotation occurs in both directions).
Disinfection of carbide cutters
Carbide cutters are not too "picky" to care for, but they must be conscientiously cleaned. So that the nozzle does not fail prematurely, does not rust or become stained, you must follow the rules for the concentration of disinfectants. The nozzles are made of metal, which is not recommended to overheat, so when sterilizing, it is important to monitor the temperature regime. The best choice for cleaning is an ultrasonic bath or autoclave.
How to buy ceramic cutters
Looking for the best manicure and pedicure router , then you definitely need to visit the TUFISHOP online store. In us you can choose exactly the nail cutter that suits you, because in our store there is simply a huge selection of various cutters . We deliver goods not only in Ukraine, but all over the world. Buying a good manicure cutter is easy, you just need to place an order on our website or visit our stores in Kiev and in the suburbs of Kiev.