tips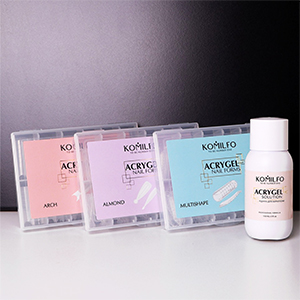 Many girls prefer long and non-standard nails, but unfortunately not everyone has such nails. For this, there are artificial nails and they are called tips . Tips are the basis of the nail, which lies on top of the nail plate and is covered with extension gel . Tips for nails have become very popular among fashionistas, as any design can be done on them.
Tips are made of high-quality plastic and have different shapes such as: round, square, sharp, daggers, for French and butterfly. They also come in various colors: transparent, flesh, white and colored. Tips are similar to natural nails, thanks to which they do not differ visually from natural ones and look natural.
Also, fiberglass for nails or upper forms for building up are analogous to tips. All these types of auxiliary materials differ from each other. Therefore, you will definitely be able to choose for yourself a more convenient way to build.
How to choose the right types
Tips need to be chosen wisely. If you take tips smaller than your own nail, it may turn out after removal that your nail was deformed from strong compression. You obviously don't need it. On our site there is a huge number
of nail tips,
so you can easily choose the right size for yourself. If you still could not find the right size of tips,
buy tips
of a large size. They can always be filed with a file and given the desired shape using a
tips cutter .
Tips can be convex or flat, have the shape of a square, oval,
stylet
- which one to choose is up to you. The main indicator for all types is elasticity, if they are not dense enough, they obviously do not rush for a long time. There are also
upper forms
, they
 

used for fast expansion. This is one of the types of plastic tips. data feature

 
top nail molds
 

is that they are equipped with the so-called "antennae" in the upper part, so that after modeling it is easy to separate the form from the created artificial nail.
tips should be thin enough and look like a natural nail;
elastic and bend;
made of quality material;
There should be no scratches or nicks on the tips.
Stick tips on nails
What is needed in order to properly stick
tips
on nails:
The first thing to do is to fit the tips to the natural nail, they should fit snugly on the nail and look natural.
We prepare a natural nail by making a manicure.
Using a buff , we remove the shine from the nails, after which we degrease the nails using a degreaser .
Then we take the tips prepared in advance and apply a thin layer of glue on it, if you apply too much glue, then most likely the tips will not hold.
Carefully read the instructions on the glue, on some glue it is indicated that it must be applied to the nail itself, and then push the tips on the nail from the tip to the cuticle, the main thing is to make sure that there are no air bubbles under the tips. When the tips reach the cuticle, align it evenly and press firmly against the natural nail for a few seconds.
You can apply a thin layer of glue on the joints of the nail, but this is not at all necessary, if you do everything right, the glue will already be at the joints, and it will just need to be carefully removed.
The drying time is usually indicated on the adhesive. Have patience and it is best to sit still for more time so that the tips are probably not damaged.
How to care for glued tips?
The time of wearing tips depends only on you, but the masters do not recommend wearing tips for more than three weeks. Since after removal, your own nails may not feel very good, they will hurt and lose their own color. It is best to take a short break after removing the tips so that the nails rest a little and gain strength, after which you can continue torturing them. A little tip: while wearing tips, do not forget to take care of your cuticles, moisturize them with cuticle oil .
How to remove nail tips yourself
What you need: tip remover and sponges. But remember, if you have never seen how this is done, it is better to contact the salon, as there is a high probability of undermining the nail.
The first thing you need to find out before removing the tips is on what basis you had glue on acrylic or on gel. This is necessary in order to choose the right liquid for removing nails. This liquid almost completely dissolves tips and glue, since they contain acetone. On average, you will spend an hour, maybe a little more, removing all the nails. But once again we remind you that if you yourself have never done such a procedure, contact the master and it will be easier for you and your nails will not suffer.
In order to speed up the process of removing the tips, you need to slightly file its surface, then moisten a cotton sponge with a remover and wrap the nail, and then wrap it all with foil. From time to time, you will need to moisten the cotton pad with a remover, as it evaporates a little.
Where to buy tips?
A stunning and spectacular manicure will decorate every girl, you can make such a manicure with the help of tips . Tips are also called "artificial nails" because they are made of plastic. You can buy good quality tips at a bargain price in our online store TUFISHOP . Only we have a large selection of tips of different shapes and colors. Also in our TUFISHOP store there are various extension gels and necessary nail equipment .
Frequently asked Questions