Stamping is the easiest way to create a beautiful manicure!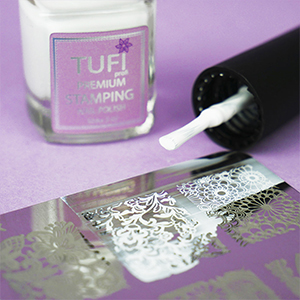 Every girl wants to decorate her nails with an unusual pattern, create a masterpiece and at the same time spend a minimum of time without visiting a beauty salon. To do this, there are new technologies such as stamping Stamping - this is a completely new type of nail art, this is a special technology for transferring a pattern using special stamping tools . stamping - This printing on nails , due to which drawings of any complexity and beauty are obtained. Using stamping in manicure , many masters and those who do manicure at home have long been convinced that the technology of use is so easy, fast, and also much more economical. Most often, stamping is used by novice masters or the fair sex, who prefer to do manicure at home . To date stamping is one of the leading tools with which you can quickly, easily and beautifully decorate your nails.
What tools are needed for full-fledged work with stamping?
To create an extraordinary and original design pattern on the nails, you will need quite a few, but very important tools. Namely, fully equipped stamping set will help you create an exclusive pattern on your nails. So what is included in the stamping kit?
Disc (stencil) on which engraved drawings of various subjects.
Stamp , with which the pattern is transferred to the nail plate. The stamp pad has a soft and elastic surface, so that the pattern is clear. Basically, the soft part of the stamp is made of rubber or silicone.
Scraper - this is a type of tool that is designed to remove excess varnish from a plate (disk)
Special stamping varnishes . Acrylic-based stamping polishes, they are not very liquid and not very thick, and have a special substance that does not spread.
Cases for disks and plates. These cases are designed for secure storage of stamping stencils. Stamping for nails and everything else you may need for the procedure, you can buy in our store.
How to use nail stamping?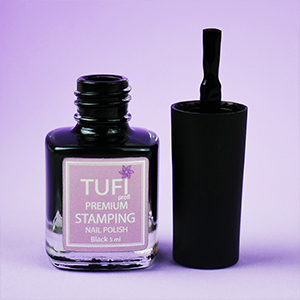 Technology of work with stamping is not so complicated, anyone can master it. You just need to practice and experiment. The most important secret in drawing a picture is speed, the faster you transfer the pattern, the clearer and brighter it will be.
First you need to prepare your nails for drawing a picture, namely, make a hygienic manicure and cover your nails

 

varnish

 

( gel polish )
Then prepare all the necessary tools
Next, apply

 

cuticle protection rubber
after take

 

disk (stencil) , and apply

 

stamping varnish

 

to the selected picture
Via

 

scraper

 

remove excess varnish from disc
Then taking

 

stamp . It is necessary to transfer the varnish to the stamp with rolling movements
Using a stamp, transfer the pattern onto the nail with rolling movements.
At the final stage, you need to remove the protective agent from the cuticle and cover the nails

 

fixer

 

( top )
In what cases is stamping impossible?
Starting to work with stamping , many masters have problems. Let's take a closer look at why problems arise and how they can be solved.
Stamping polish not filling the plate?
In such cases, you need to pay attention to the plate itself, you may not have removed the film from it. Often the film is blue, but it is also transparent.
What is the reason for the varnish not being transferred?
The problem may lie in the consistency of the varnish. The varnish may be too thick. Or the polish dries quickly.
The stamp pad is too hard. In this case, it is best to apply more force when rolling the pad or replace it.
Strong removal of varnish with a scraper. Try not to scrape the varnish off the plate too much.
How to choose the right stamping and where can I buy it?
In choise stamping tools you need to know quite a few criteria, because the appearance of your drawing on the nails depends on the quality of the tool. The most important thing is to choose the right stamp and stamping varnish . Stamp , namely the stamp pad, must be made of silicone. The surface of the pad must be even and smooth, and must contain micropores. The pad should have a bend that will allow the pattern to be transferred with a rolling motion. Concerning stamping varnish , it must have a thick consistency, high pigmentation and rich color. Before buying, it is advisable to consult with the seller or manager, ask all the necessary questions. Properly selected stamping tools will provide not only a high-quality drawing, but also long-term use.
Frequently asked Questions