Collars
When a client comes to a beauty salon, namely to a hairdresser , first of all, there should be: hairdressing tools , equipment and inventory such as a disposable collar . The hairdresser 's collar is made of special paper or spunlace, which has an elastic structure. The collar is used to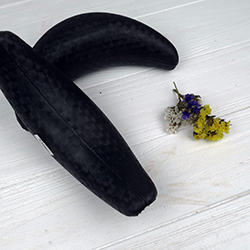 the remains of the hair after the haircut did not fall on the neck and did not prick it. A collar is put on around the neck and attached to an adhesive layer, then a peignoir is put on top. The collar is removed easily, while all the remnants of the hair remain on it. The collar not only protects the client's skin, but also provides comfort.
Variety of collars
Collar made of crepe paper, which has an adhesive layer. The paper of this collar has up to 200% elasticity and retains moisture, thus preventing discomfort when cutting. Such paper is most often produced in large rolls, and for convenient use, the collar is placed in a special box.
Collars for barbershops made of spunlace - produced cut in a pack. This collar is pleasant to the touch and does not cause allergic reactions. The composition of this collar includes viscose, thanks to which it does not rub the skin and is practically not felt on the neck.
A range of disposable products for beauty salons
Disposable gloves. Most often they are used in cosmetic and medical institutions. They are made from different materials: vinyl, nitrile, latex, polyethylene. The most popular for cosmetologists are nitrile gloves , as they allow the cosmetologist's hands to feel as much as possible those areas with which he works. Also, such gloves are used by depilation masters. Vinyl gloves are popular with medical workers. Basically, everyone buys the products with which it is easy and simple for them to work.
Disposable sheets. This is a very good and practical acquisition for a beauty salon. They are not expensive and are very easy to use. They are also made from different materials: spunbond, SMS, polyethylene, spunlace. Spunbond sheets have antibacterial properties, provide the client with a feeling of comfort. This coating protects the furniture from water or products that the master works with.
In turn, like SMS sheets , they can be divided into three types: luxury, comfort and standard. Thanks to this, regardless of the class of the salon, everyone will be able to buy disposable sheets for themselves, which will suit them at a price. Spunlace sheets do not accumulate static electricity and do not cause allergies.
Disposable towels and napkins. As it turned out, this is much more convenient and practical than buying reusable products. With the help of disposable napkins and towels, the master can quickly prepare the client for the procedure. In turn, the client will be sure that, for example, the negligee is completely clean and has not been used before.
Disposable clothing. Now it's just a mass of variousdisposable clothes , with the help of which the client feels more confident doing certain procedures.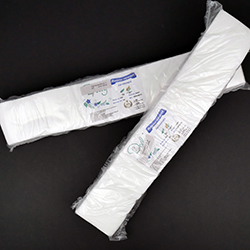 Disposable caps, masks, shoe covers, socks. This group of products includes many components, but the most important ones that are used very often can be distinguished:
shoe covers and gloves, popular for medical institutions, beauty salons;
rugs and slippers are also used in both hospitals and beauty salons;
other equally important little things for a beauty salon are hats, spacers, headbands.
Hairdressing collars, foil. In the list of products for beauty salons, disposable products are far from the last. What kind of salon, for example, without foil, which is used for highlighting, coloring, and now it is also often used by manicure masters. The same can be said about hairdressing collars , which are no less important.
Disposable slippers. This type of disposable product is performed not only in a beauty salon, but also in saunas, swimming pools, and medical clinics. Also, slippers are developed from different materials, which one to choose depends only on the conditions of their further operation. Disposable slippers made of isolon are most suitable for solarium lovers, but in slippers from spunbell it will be most convenient to visit a spa or pool. Terry slippers can often be found in hotels.
Where to buy collars?
For a professional hairdresser, you need such a type of hairdressing accessory as a disposable collar . The collar will not only provide convenience and comfort to the client, but also allow you to enjoy the procedure. It is easy to buy a collar , for this you just need to contact the TUFISHOP online store. The TUFISHOP store has reasonable prices not only for collars , but also for equipment , gel polishes and nail decor . In order to place an order, you need to call the numbers indicated above or place an order on the website.
Frequently asked Questions