Protective masks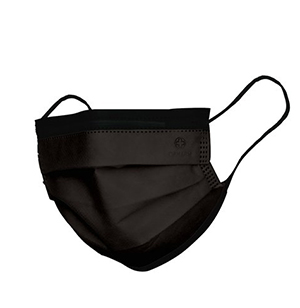 A protective mask is an indispensable product that covers the mouth and nose with a filter. It has found wide application in medical institutions, food production enterprises, veterinary clinics, educational institutions and a number of other places. In its manufacture, an environmentally friendly material is used that does not provoke an allergic reaction and irritation.
Types of medical masks:
By the number of layers: 2-, 3-, 4-layer;
By type of fastening: on ties, on elastic bands, ear elastic loops;
By appointment: surgical, dental, procedural, etc.;
By the presence of special devices: a nasal fixator, a strip that absorbs moisture, additional filter elements, an outer anti-liquid layer, a protective screen, etc.
Three-layer mask
To date, the most popular and simple is the medical three-layer mask. They are not expensive, easy to use and do not require processing, because they are disposable face masks.
Mask Layers:
The inner layer. Material - spunbond (usually white). It perfectly passes moisture, thereby removing it from the respiratory system.
Middle layer. The material is meltblown, it is this material that is the main one and its function is to protect.
Outer layer. Material - spandbond with hydrophobic properties (most often blue). This layer has a microporous texture, due to which particles of saliva do not penetrate into the second layer, thus it continues its protective functions.
All this simple three-layer structure is called SMS (SMS), which means the components of the mask - spunbond-meltblown-spunbond.
Operating principle
A protective face mask works as follows: it retains most of the saliva of a sick person who coughs or sneezes, due to which a minimum amount of viral particles enter the air. As a result, it becomes less dangerous for people around. This made the products indispensable during the coronavirus epidemic. It is important to note that wearing the same mask for more than 3-4 hours is impossible, since the effectiveness decreases, it becomes a breeding ground for infection.
Also, masks are often worn during construction work or in production, as they protect the respiratory organs from dust, chips, sawdust, harmful gases, trapping them on the surface.
Mask Benefits
What are the benefits of a disposable mask?
Tight fit to the face. Disposable masks are cut according to special patterns that take into account the anatomical structure of a person's face. A special nose clip and elastic bands tucked behind the ears make them comfortable and secure.
Eco-friendly material. The classic medical disposable mask is made from non-woven material. Most often, spunbond of various densities is used for the production of the product.
Another feature that distinguishes a real protective mask is its layering. One of the layers performs a water-repellent function. This is usually the one that is attached directly to the skin. The outer one protects against bacteria. It is thanks to him that the facial protective mask is able to withstand the onslaught of various microbes. The inner layer has high absorbent properties.
High breathability allows a person not to experience discomfort during the operation of the product. High- quality protective masks , which you can buy in the Tufishop online store, do not interfere with free air circulation, while retaining more than 90% of bacteria in the air. At the same time, a disposable mask, the price of which is low, is much more effective than bulky home-made dressings.
Comfort. Disposable mask , which you can buy in the store, does not irritate the body, and the elastic bands located on the sides do not put pressure on the delicate skin behind the ears. Thanks to this, the product can be used for a long time without experiencing pain or inconvenience.
Versatility. Now we have come up with such masks that look funny, cute and funny at the same time. On our site you can see different masks with a pattern and buy those that you like the most. 
Skin care while wearing a protective mask
Dermatologists advise forgetting about professional makeup for a time when you have to constantly wear a protective mask. The fact is that the foundation, "hidden" under the mask, can clog pores and provoke the appearance of comedones or inflammatory rashes. If there is no way without a full make-up, you should at least try to use light non-comedogenic cosmetics for this.
As for standard skin care, rough, grainy scrubs should not be used on the face: they increase the risk of irritation tenfold. Such aggressive products can significantly worsen the course of inflammatory dermatological diseases (such as acne) because they destroy the hydrolipid mantle of the skin. Likewise, avoid skin-irritating cleansers, especially alcohol-based products.
Protective masks in TUFISHOP
Want to buy disposable masks? Then the online store https://tufishop.com is at your disposal or visit our store in Poland, which will open on November 30, 2022 in Warsaw. We work only with trusted suppliers, thanks to which we guarantee the quality of the products we sell. We often come across medical disposable mask to buy, so we monitor the quality and availability of products. On the website you can buy disposable products at attractive prices: face masks, nitrile gloves, a set of gloves, etc. To order a product, enter the product you are interested in on the website or visit our showroom in Warsaw. Call us, we are waiting for you!