Disposable shoes
When visiting a beautician or a medical facility, the first thing you will be asked is to put on disposable slippers or shoe covers . What are disposable shoes for? Shoes will not only help keep the room clean and sterile, but the client will not feel discomfort. Disposable shoes are often used by customers, as the craftsmen have their own clean shoes that are free of dirt. With disposable shoes , you will save the room from dirt and germs, and you will not have to do the cleaning often.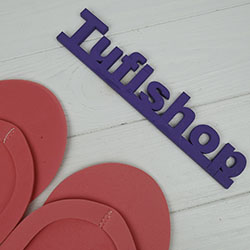 Types of disposable shoes
Shoe covers are protective covers that are worn on top of shoes . The shoe covers have elastic bands that do not allow them to fall off their feet. Shoe covers are made from different materials such as: polyethylene, chloropolyethylene and spunbond.
Slippers - disposable slippers and flip flops are used in SPA centers, hospitals, hotels and solariums. These slippers are worn on bare feet.
Terry slippers are one of the types of slippers that are considered more comfortable and of higher quality. Such slippers are used for VIP salons or at home.
How to choose the right disposable slippers
Slippers should not slip on the floor.
Disposable slippers should hold securely on the foot and not fall off.
The material from which slippers are made should not cause discomfort to the client.
The shape of slippers should not be lost and deformed.
What is a spa pedicure?
Our legs are not easy, they are constantly tired, from walking, uncomfortable shoes, high heels. The skin of the legs also suffers. Our legs at least sometimes need to completely relax, for this, in almost every salon you can see such a service as a spa pedicure . This special procedure not only gives pleasure to the legs, but also guarantees a beautiful result at the end of the procedure.
SPA pedicure requires the use of the most modern cosmetics, as well as therapeutic mud, algae and many other useful substances. This procedure guarantees comprehensive care for the legs. What the procedure includes: a foot bath, treatment of fingers, feet, high-quality skin exfoliation with a scrub, a foot mask, as well as a relaxing massage. However, changes can be made to this set, it all depends on the preferences of the master and the cosmetics he uses.
How is a spa pedicure different from a regular one?
The main difference between such a pedicure is that during the procedure the integrity of the skin is not violated, nothing is cut or cut off. Getting rid of rough skin, corns, occurs by dissolving them with special means. This procedure is very pleasant, which does not cause discomfort for customers. The possibility of injuring the client is absolutely excluded. The top layer of the skin, evenly disappears.
A spa pedicure helps keep your feet in beautiful condition longer than a regular manicure. But it also takes a little longer than usual. This procedure involves not only foot care , but also complete relaxation. Many masters very often turn on unobtrusive quiet music in the background or use various incense.
How is the procedure:
The first step is steaming. Feet sanitized. Bath helps soften skin, as well as the cuticle on the nails. The water temperature should be approximately 38 degrees. Soaking the legs usually lasts about 5-10 minutes. In the bath, the masters add various preparations and products that help to relax. With their help, it is very good to prepare the feet for further procedures. Hydromassage baths with the addition of salts can even be used.
The next step is peeling. First you need to do a light peeling, it allows you to effectively carry out superficial exfoliation. This procedure takes place using various scrubs, which contain sea salt or sand. The peeling procedure helps to prepare the legs for the application of the dissolving serum. Its action enhances deep peeling, removing corns and calluses.
After that comes moisturizing and cooling the skin of the feet. At this stage, a moisturizing mask with aromatic oils is put on the feet. Her stay on her feet is approximately 20 minutes.
The final stage of the spa pedicure is a massage. The master massages each foot for at least 5-10 minutes. Massage has a beneficial effect on a large number of points that are focused on the human top. As you know, they are responsible for different organs. That is why SPA pedicure is considered not only as a care procedure, but also as a care for one's own health. It allows you to improve your well-being and gives you a charge of vivacity.
Where to buy disposable shoes?
In a beauty salon, to maintain cleanliness and sterility, first of all, disposable shoes are needed. With the help of disposable shoes , the room will be clean, and the client will be able to feel comfortable. You can buy disposable shoes in our online store TUFISHOP . Shoe covers and slippers at affordable prices can be ordered at the numbers indicated above or place an order on the website. Also on the TUFISHOP website there is a large selection of equipment for beauty salons , materials for nails , eyelashes , depilation , tattooing .
Frequently asked Questions