Dividers for fingers (for pedicure)
Today, beautiful nails should be not only on the hands, but also on the legs. Every girl prefers well-groomed and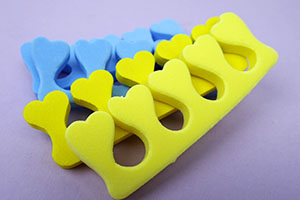 impeccable pedicure , therefore, turning to a beauty salon or doing a pedicure at home, you will need such equipment as toe separators . Spacers ( separators ) are soft forms that are inserted between the toes, with the form separating them. Thanks to spacers , it is much more convenient for the master to paint nails with varnish or gel polishes . Toe spacers are easy to use by placing spacers between the toes. It is better to remove the separators after the varnish has dried, so as not to spoil the pedicure.
Why are finger separators needed?
To avoid smearing gel polish.
To make it convenient to do a pedicure with tools.
So as not to smear the skin of the toes.
To make a beautiful pedicure with decor.
Variety of finger separators
Silicone

 

- bend, due to which it is easy to dress;
Foam

 

- have a soft texture and take the form between the fingers.
Spacers are made of a material of moderate elasticity, due to which they easily take the necessary shape under the fingers. that is why they never rub or cause discomfort. After the procedure, the spacers return to their original shape and can be reused. Many girls are familiar with the situation when, at the final stage of a manicure, when all the nails are already beautifully covered with nail polish, one coating is accidentally rubbed off on a neighboring finger. To avoid such a situation, they came up with a miracle of helpers - finger spacers .
Thanks to finger separators, the master will not only make a neat pedicure , but also save your time. Also interdigital separator there are different, colorful colors, due to which the master will be able to choose it for the interior or the client will be able to choose the color that will be to their liking. And this, as we know, can inspire the master to new ideas for a stunning and unique manicure. Separators keep the fingers in the correct position and prevent lubrication polish, gel polish or decor .
Finger dividers will help to make a perfectly beautiful manicure even at home. Pick up dividers with a shape that is convenient for you, which can be easily fixed between your fingers. Slip them between your fingers every time you do manicure or a pedicure for the convenience of applying varnish or gel polish coatings. The synthetic base of some separators allows you to wash and wipe them even in disinfectant . Moreover, the shape and structure of the separators will not change. This allows the product to be used multiple times.
How to do a pedicure at home?
First of all, in order to make a quality pedicure, you need to stock up on the necessary materials and tools. Buy a good, not too rough nail file . Experts advise to abandon files with too rough coating, which resemble sandpaper. Using such a nail tool is not very good, as it can exfoliate, which does not look very attractive. It is best to arm yourself with a glass nail file.
Remember that you need to file the nails in only one direction, giving them the desired shape. You should not experiment with the shape of the toenails, as they need to be trimmed evenly to avoid ingrown toenails. In order for the nails to be beautiful and the pedicure to be completely successful, you need to polish them. To do this, use a nail polisher . First use the rough side to get rid of the bumps, then use the less hard side.
It is imperative that the pedicure procedure is complete, you need to make a steaming foot bath. It will not help not only soften the skin, but also if the composition of the bath consists of herbs, then it will also improve the legs. Let's look at what baths can be done:
tonic foot bath , for its preparation you need sea salt and essential oil. If no oil was found, you can use dry grass, the effect will be the same;
antibacterial bath , useful for those who have fungal infections. To prevent the fungus, you need to add a little baking soda to the bath, such a solution disinfects well and eliminates unnecessary bacteria;
relaxing bath with the addition of chamomile or calendula tincture, has a moisturizing effect. It is very useful for those who have very dry skin on their feet. This composition will not only moisturize the skin but also disinfect the legs.
It is not worth keeping the legs in the bath for too long, watch how the skin is steamed. Usually, 15 minutes is enough for a bath and you can proceed to the next step.
Peeling and nutrition of the skin. Using a pumice stone, you need to thoroughly clean all the legs from corns and keratinized skin. Then you can use a foot scrub to treat all areas even better. After the diligent procedure is over, you need to wash your feet in clean warm water.
Then using an orange stick , you need to remove the entire skin on the nail, including the cuticle. After the pedicure is finished, you can pamper your feet with a massage. Massage your feet with nourishing creams .
Pedicure at home ends with the application of nail polish.
Where to buy finger separators
Give yourself a brand new and neat pedicure with toe separators . Using separators you will not only save time, but also get a pedicure without smearing the varnish . You can buy toe separators at a bargain price in our TUFISHOP online store. We have reasonable prices and high quality products.
Frequently asked Questions