Everything you need for depilation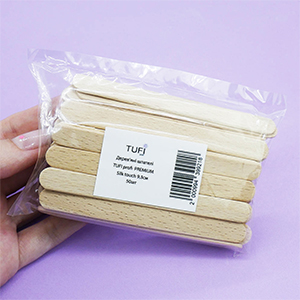 Depilation is one of the most popular procedures among girls and women. Depilation procedure is quite simple, takes a little time and is not very expensive. In addition to all this, you can even do it yourself without leaving your home and not waste time going to beauty salons. The only negative and you can't get away from it is pain. But, do not immediately rush to conclusions, if a friend told you that it was very big and she would not advise doing this procedure, do not rush. The pain threshold in each person is different, what was painful for her may be imperceptible for you. For the depilation procedure, materials and special equipment are needed.
A beautician's tool kit would be incomplete without such an accessory as a spatula. A wide plastic or wooden spatula, with which you can apply cosmetic preparations to the body, allows you not only to conveniently distribute the product over the skin, but also to maintain the sterility of the depilatory cream or wax .
Where and how is a spatula used?
Today, applying cream to the face or skin is not complete without a spatula. Moreover, in order for the effect of the procedure to be more effective, and the remains of the cream to be better preserved in the jar, cosmetic spatulas are used to select the required amount of the product into another, sterile, container. And only after that the cream or gel mass is applied directly to the face.
Waxing is another procedure for which you will need to buy a wooden spatula . This tool is usually made of hardwood, which allows you to apply the epilator by making the right pressure on the wax spatula .
In addition, the wooden spatula is carefully polished not only on the surface of the spatula itself, but also on the edges, so that the application of wax is comfortable and pleasant.
What are spatulas?
Widely used both in salon and medical cosmetology, spatulas are of the following types:
Disposable wooden spatula . Such a tool can be either packaged in individual sterile packaging or sold in a common box. After use, such a spatula is thrown away.
the plastic spatula is intended for reusable personal use and is thoroughly washed after the procedure.
metal spatula .
Which spatula for depilation is better: metal or wooden
Reusable metal spatulas . According to safety standards, the spatula, which is already used for depilation, is not allowed to be immersed in a common jar of sugar paste. Because the used tool can bring microbes into the composition. Therefore, you cannot use the sugar paste from this jar for other customers. We recommend putting a portion of the paste, designed for 1 client, in a separate container and scooping up the product from it. It is not always possible to accurately guess the required amount of funds, especially if a large area is being processed. Therefore, using a clean spatula, it is often necessary to add pasta from a jar to the reserved portion. Metal spatulas for depilation must be sterilized. If there is not enough paste to perform the procedure, then the used spatula will have to be removed and replaced with another sterilized one. Only in this case it will be possible to take the remedy from the general container. During working hours, this will be periodically repeated, so it will not be possible to do without a decent supply of tools. The sterilization procedure is usually carried out once a day (you are unlikely to be able to do more often). Therefore, there should be a daily supply of sterilized metal spatulas in the amount of 40-50 pieces per master. If there are several masters, the number of required processed tools increases. This can significantly complicate the work.
Disposable wooden spatula . Such spatulas are more convenient to use than metal ones. They are disposable. Therefore, if it is necessary to add a paste from a jar, the master can throw away the used tool and take a new one. The cost of wooden spatulas is low. If you take a large wholesale, then one tool can cost a few cents. Therefore, the consumption of a couple of pieces per procedure has almost no effect on the budget, and at the same time, time is not wasted on processing instruments. Therefore, it is obvious that such spatulas for depilation are economical.
Mistakes that are often made during depilation at home
The skin is not cleansed before the procedure. After waxing , girls very often complain that the hairs begin to grow in. To prevent this from happening, before the procedure, it is necessary to carefully prepare the skin. It is best to scrub the area where the procedure will take place the day before the procedure. And already before the procedure itself, you need to degrease the skin well, using a special tool, and then remove excess moisture with talcum powder .
Buying low quality wax . Wax can be completely different, the result of depilation directly depends on its quality. It is best to purchase professional wax , such waxes can be bought in our store at affordable prices. Be sure to test for an allergic reaction before the procedure. First, apply the wax to a small area of the skin and leave for a couple of minutes, making sure that there is no irritation or itching.
Wrong temperature of heated wax . If there is wax , there will be no problems with this. But undoubtedly, most of the girls who do the procedure at home use a water bath or microwave to heat the wax. Too cold wax is very difficult to apply and also difficult to remove, very hot spreads and can cause burns. Wax packaging should always indicate the temperature at which it can be handled.
Wax on the skin is applied incorrectly . Do not try to apply a thick layer of wax, then you simply cannot remove it. When using wax in a cassette , the task is simplified because the wax is applied correctly. If you work with canned wax and apply it with a spatula , then control the thickness of the applied wax. Another very important indicator - the wax cools down very quickly.
Do not try to remove too short or long hairs . The optimal hair length is 5 mm. If they are shorter than the optimal length, then it is not a fact that the wax will be able to capture them, but if they are longer, it will be very painful and the possibility of ingrown hairs increases.
Removing hair in the wrong direction . When waxing , it is very important in which direction you remove the strip. It is necessary to remove wax only against hair growth and nothing else. Pull not up, but parallel to the skin.
Wax strip boils too slowly or too fast . The slower you pull the strip, the more painful and less effective it will be, but you should not tear it off too sharply, as a hematoma may remain. To get an idea of what pull-off speed is needed, practice on a small area of skin.
Wax residues are not properly removed from the skin . In no case do not wash off the wax residues with water or rub with a towel, any oil should be used to remove the wax residues.
Wrong procedure for care after depilation . After the end of the procedure, the skin must be wiped with an antiseptic, and then moisturized with a cream or other product.
What shape spatula is best for shugaring
There are many different spatulas on the market according to the shape and thickness. You should not buy thin ones, because it is more logical that they all break when immersed in the paste. It is better to give preference to thick spatulas, they will last much longer. If we talk about the shape, then if you choose a wide spatula , you definitely will not lose. Wide wooden spatulas for depilation are more convenient to use, especially for treating large areas. However, if you (or the masters of your salon) often do eyebrow sugaring, you will also need narrow products.
Buy everything for depilation
Cosmetic spatula, which you can buy in our TUFISHOP online store, is perfect for both professional cosmetic procedures and home use. In our store you can buy different products for depilation: wax makers , depilation wax, and much more. We work only with trusted suppliers, due to which we guarantee the quality and reliability of the goods. Contact us, we are waiting for you.
Frequently asked Questions