Depilation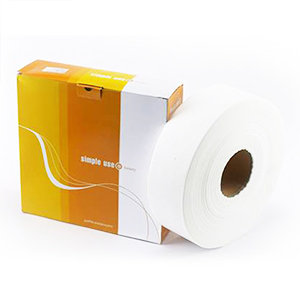 Every woman dreams of beautiful, perfect, silky and delicate skin. We all know that in order for the skin to be excellent and well-groomed, cosmetics little care. It is important and must also get rid of unwanted body hair . There are many ways to get rid of hair on a specific part of the body, but the most popular of them is depilation . What is depilation ? Depilation is the temporary removal of the visible part of the hair from the skin. To date, there is a large selection of products with which you can remove unwanted hair. Each girl or master will be able to choose the type of products for depilation with whom it is convenient and comfortable to work.
In order to get rid of unwanted hair, it is not necessary to go to a beauty salon. It is quite possible to carry out the procedure on your own, and paper in rolls for depilation and other materials will help you with this.
How to choose paper in a roll?
The hair removal paper roll is selected based on the following requirements:
density. The ideal indicator for such paper is 80-90 g / sq.m. A thinner strip is quickly saturated with moisture, which significantly increases the consumption of materials and prolongs the procedure. However, too thick paper is also undesirable - most often such strips are torn or leave abrasions and irritation on the skin.
Colour. The classic solution is white paper for depilation in a roll . Sometimes you can buy paper in black rolls - a more stylish and neat option that does not show the hairs. And multi-colored stripes, no doubt, will not only make your body smooth, but also improve your mood for the whole day.
roll paper for depilation , which you can buy in our TUFISHOP store, is considered the most economical consumable option that allows the master to cut strips of the desired length on their own.
perforation. Sometimes, for convenience, the tear line on the paper is marked with a perforated strip. This makes tearing easier, but does not save paper strips.
Waxing and sugaring: truth and myths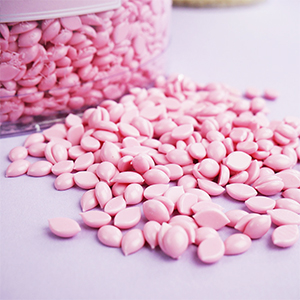 Let's try to compare sugar paste and wax. What do the masters, customers and manufacturers of this product say about this and that means for depilation.
When depilating with wax, you can burn the skin, but not with sugar. A professional master will never apply too hot wax to the skin. It is simply not possible to get a burn in a professional master. Of course, if you carry out the procedure yourself and applied too hot wax to the skin, of course, you are simply guaranteed a burn. Today, many people use lash waxes , they are considered low-temperature and do not harm the skin. They can be said to have practically squeezed hot waxes out of the market. Of course, you can't burn yourself with sugaring paste , as it warms up in your hands to a working state.
Wax sticks to the skin, but the paste does not. This statement is considered a myth. If wax is applied to the surface of the skin, it is very easy to remove it without pain and discomfort. What does it say? That the wax does not stick to the skin and does not form sticks. Sugar paste can stick to the skin and can only be removed with a special tool.
Both wax and paste are able to cope with short hairs. Yes it's true. Both products have very good tack and viscosity, which allows them to adhere even to very short hairs. Warm wax and sugar paste are able to remove hairs 3-5 mm long. Film wax can even cope with 1 mm hairs.
Sugar paste does not break hairs like wax does. Modern film waxes and pastes have a fairly elastic structure. They are easily applied to the skin, enveloping the hairs, and when removed, the hairs with the root are removed. We are not talking about hot waxes, since they may well break off hairs; with film waxes, the situation is completely different.
Sugar paste is an innovative product. Not true. Sugar paste has been made since ancient times. Now manufacturers have just slightly changed the composition of the components in sugar paste. Wax appeared later than sugar paste, but initially it was more famous among the girls who performed the depilation procedure.
Waxes work more comfortably than sugar paste. This statement is true, and all because, when working with wax, everything is exactly what the temperature is in the room and the temperature of the skin, which cannot be said about sugar paste. Working with it is completely dependent on temperature, if it is very hot, the paste will begin to spread and become naughty.
Delicate areas are best done with sugar paste rather than wax. Depending on which side you look at, basically the pain during depilation does not depend on what you are working with, but on the structure of the hair and how much pain you tolerate.
Working with sugar paste is more difficult than with wax. Truth. Learning to work with wax is much easier than with sugar paste. To do this, you need to attend courses, watch training videos, and start practicing. For starters, take your loved ones as models.
As for shugaring. Here, the work is more painstaking and time-consuming. To master the art of shugaring , you need to feel the sugar paste very well, choose the one with which it will be convenient to work, and start practicing under the guidance of an experienced master.
How to order paper for depilation in the online store?
Kiev, Kharkov, Dnepropetrovsk and other cities of Ukraine can buy everything for depilation in our store. We offer paper for depilation (including cut paper ), depilation kits , spatulas . Delivery in Ukraine is carried out by such transport companies as Nova Poshta and Ukr Poshta, there is also delivery abroad. We work only with trusted suppliers, due to which we guarantee the quality of the products sold. Contact us, we are waiting for you.
Frequently asked Questions