Waxing and sugaring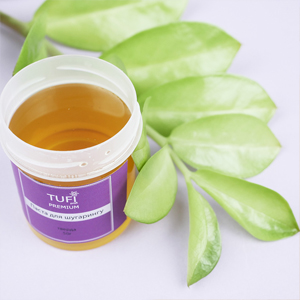 In autumn, winter, spring and summer, female beauty is unthinkable without smooth and silky skin, so many girls practice all kinds of methods to remove unwanted hair. The most popular hair removal methods are wax and sugar depilation. Professional equipment and special tools will be needed for depilation treatments.
Hair removal has gained immense popularity among women around the world due to the fact that it provides:
long-term effect;

amazing workmanship;

affordable prices for all necessary tools and equipment.
It is also worth noting that depilation products, and therefore a variety of depilation devices, can be purchased both for home use and for working with them in beauty salons.
What is needed for the hair removal procedure?
Depilatory wax or shugar paste are the main details of the depilation procedure. In our store, wax and sugar paste for depilation have an extremely affordable price, which will make it easier to choose the right material from any manufacturer. It is worth remembering that the result of the procedure directly depends on these measures. Before you know where to buy depilatory wax. Better understand what types of waxes are:
hot depilatory wax in granules and briquettes (intended for sensitive and delicate skin areas (face, neck, chin, armpits, bikini), for hair over 3 mm);

warm wax for depilation (intended for depilation of large areas of the least sensitive skin (legs, arms, back, chest), for hair from 5 mm long);

cassette wax.
If you decide to wax, you will definitely need to buy depilatory wax, its size and functions only depend on what wax you want to use. They often buy jar waxers and cassette waxers. Canned wax, usually circular in shape and mains powered. The wax cartridge, usually rectangular in shape, is powered by a mains and has a roller distributor by which the wax is applied to a specific area of ​​the skin in accordance with the hair growth. An obligatory attribute is also depilation paper, which is also presented on our website in several forms, paper in rolls and cut paper. Important post-depilatory measures are depilatory cream, depilatory oil, post-depilatory balm, various gels before and after depilation.
As for the procedure depilation of bikini, arms, legs and other parts of the body, then you definitely need a special sugar paste for it. For the procedure, you will also need a depilation spatula and special pre-depilation products and an after-depilation and shugaring agent.
For those who dream of performing these procedures themselves and do not know where to start shopping, we suggest considering such an option as a wax and sugar depilation kit, they have everything you need to carry out the procedure.
How to make waxing less painful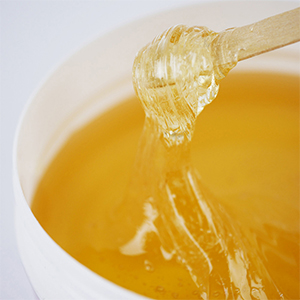 The first and very important rule is to choose the right time. Since it is not recommended to do this procedure before the start of "women's days", it increases the pain. It is also worth behaving calmly and not get nervous, do not exert yourself, because you are compressed, the pain will be felt even more strongly. One of the prerequisites is peeling. This can be done the day before depilation. Using homemade scrubs or purchased. After this procedure, it will be easier for the master to capture very short hair. This will make the procedure even more effective.
If you have a high pain threshold, choose hair removal with a material such as sugar paste. After all, this method is much painless compared to waxing. After shugaring, there is no irritation, the skin does not dry out, and the problem of ingrown hairs is practically eliminated. One way to avoid pain is to take painkillers an hour before the procedure. There are also special pain relief creams for hair removal and other pain relief products with menthol extracts. Today, such tools are in almost every master's office. And one of the most important points: you need to be motivated to endure the painful procedure. You must remember that after the treatment you will have a perfect bikini area. And this result will last a long time. A huge bonus for us girls, with each subsequent treatment the pain will be less noticeable. The first treatment is always painful, but what a great result awaits you! After seeing such a result, you will no longer want to use a razor.
Waxing at home
To start the waxing procedure at home, the wax must be heated to a certain temperature, then applied to the skin area, and special depilatory strips are applied on top. As soon as the wax starts to cool down a bit, the strip should be torn off with a quick and sharp movement to prevent hair growth. After the waxing procedure, the effect lasts for a long enough time, because the hair is pulled out by the bulbs. After the treatment, be sure to use special products that are used after depilation to soothe irritated skin. This procedure can be performed on any part of the body, but it is recommended to contact the master for bikini depilation, because working with sensitive areas itself will be painful, and if it's the first time, it honestly hurts .
How to do it right and what you may need for the procedure hair removal at home. Sugaring is one of the oldest ways to remove unwanted hair, but it has become so popular in recent years. Many people have prepared the sugar paste themselves at home, but today it is easier to buy sugar paste and carry out the depilation procedure without wasting time.
Before the procedure, it is necessary to prepare the skin with a peeling. This helps to avoid irritation after the procedure. Sugar paste for depilation is pulled out of the jar, rolled into a ball, you can do the procedure with your hands, or you can use a spatula as you like. After the procedure, be sure to use a cream or lotion that will prevent irritation.
If you decide to do hair removal at home, consult an experienced cosmetologist. It will help you choose the type of hair removal that will cause the least damage to your skin.
Depilatory wax where to buy, depilatory products and equipment?
The TUFISHOP online store offers a very profitable purchase of professional hair removal products and devices at affordable prices. Our store has a huge range of various products, thanks to which depilation will be quick and painless. We pay attention to:
depilatory waxes,

voskoplavy,

depilation strips,

measures before depilation,

after hair removal measures,

spatula.
Promotions, discounts and benefits of the online store of hair removal products
We constantly have promotions and discounts on depilatory wax, shugaring and pre/post depilatory products. All information about promotions can be found on a special page. Advantages of TUFISHOP:
- FREE DELIVERY InPost Courier in Poland from PLN 200.
- We work only with official suppliers of cosmetics and equipment,
- Affordable prices for every visitor.
- We have a large selection of original products.
- Qualified consultations from Tufishop store sellers for any questions about high-quality body care, both in beauty salons and at home.
Delivery of goods in Poland
We carry out orders throughout Poland. Do you want to buy depilatory preparations? Then the TUFISHOP online store is at your disposal or visit our store in Poland in Warsaw. Free shipping from PLN 200 throughout Poland. We work only with trusted suppliers, thanks to which the quality of the goods is at a high level. To order, call one of the numbers indicated on the website or come to our showroom in Warsaw. Call us, we are waiting for you!
Frequently asked Questions