Tweezers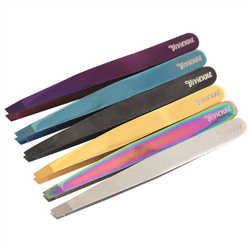 Removing unwanted facial hair is a very delicate procedure, so the choice of eyebrow tweezers must be approached with responsibility. Only with the help of properly sharpened tweezers can eyebrow correction be done quickly and painlessly. After all, everyone knows that by choosing the right eyebrow shape, you can change the shape of the face, make the features more expressive and generally make yourself a beauty.
High-quality and most importantly inexpensive eyebrow tweezers can be bought in the Tufishop online store with delivery in Kiev, and you can also order delivery to any corner of Ukraine. Here you can always find a huge range of tweezers for both professional use and daily at home.
How to choose the right eyebrow tweezers
As already mentioned, we have a huge range of various eyebrow tweezers from different manufacturers. All of them have a different shape, have a different color. For this reason, it is very easy to get lost in such a wide variety. What are the characteristics in the first place should be preferred when choosing eyebrow tweezers :
The material from which the tweezers are made. Professionals recommend choosing tweezers that are made of stainless steel, as they will last much longer than others. Also, such tweezers lend themselves to various types of disinfection, due to which a sterile approach to each client will be provided.
The form. Today, the shape of professional eyebrow tweezers is varied and it is possible to choose one that will be very convenient to work with. There are straight, pointed, beveled, needle-like devices for eyebrow correction. If your eyebrows consist of thick hairs, you should pay attention to tweezers with straight or beveled edges. If you have thick eyebrows, you can safely purchase eyebrow tweezers with pointed ends . If suddenly you have such a problem as ingrown hairs - needle-like tweezers are an ideal purchase.
How to pluck your eyebrows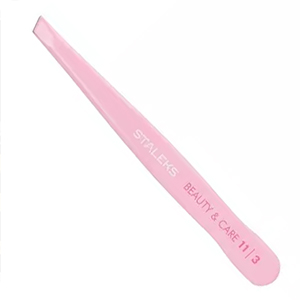 Each girl plucks her eyebrows, and not always the result can please. Undoubtedly, in each of us there were situations when you pluck out something that should not have been touched. To prevent this from happening again, we recommend reading some tips on how to shape your eyebrows and keep them beautiful.
In order for the eyebrows to be the correct shape, before starting to work with them, you need to mentally draw three lines through the right and left sides of the face. The two extreme imaginary lines will mark the beginning and end of the eyebrow, the middle line will determine the center, where the highest point will be. After all points are found. you need to decide exactly what kind of eyebrow shape you want. Each type of face suits a different shape.
For girls with a round face, a shape with a kink and a little pointed at the top, the so-called eyebrows with a house, is ideal. This helps to visually lengthen the face. How to make such eyebrows? It is very simple, you need to remove the maximum amount of hairs at the highest point of the eyebrow, and give the entire eyebrow the shape of a triangle. Avoid too strong break lines.
For those who have a more triangular face shape, it is best to make a rounded shape of the eyebrows, but do not get carried away too much, too pronounced an arc can make the face more elongated. Girls with an oval face shape are suitable for rounded eyebrows, but pointed at the outer corner of the eye. If the face is elongated, straight eyebrows are most suitable, they will give the face more feminine features.
Plucking eyebrows with tweezers. After everything is already defined with the form, we start working with tweezers. We also need a disinfectant lotion to eliminate germs from the tweezers. And of course, a mirror, without it in any way. Eyebrow plucking is best done during the day or in very good light.
Before carrying out the procedure, be sure to disinfect the skin and the instrument, comb the eyebrows well so that the hairs separate from each other. You need to remove the hairs one at a time, grabbing them well with tweezers at the very root, so that irritation does not appear, be sure to keep the hairs in the direction of hair growth. Be sure to make sure that the eyebrows are symmetrical, do not overdo it. Everything is good in moderation.
How to use tweezers?
Before you start the procedure for plucking your eyebrows, you should thoroughly wash your hands and disinfect the tweezers. Then, using a mirror, pull the skin away with one hand, while using eyebrow tweezers, grab the hair and pull it out. You should not try to capture several hairs at once, as this is very painful and will not bring good results. To work with this accessory, you do not need any special skills or years of practice.
Buy eyebrow tweezers
It is easy to buy tweezers inexpensively! Contact our online store TUFISHOP . Here you can find everything for eyelash extensions and creating beautiful makeup: eyelash extension tools, eaelash and eyebrow care products, eyelash extension materials and much more. We work only with trusted suppliers, so the quality of our products is at a very high level. We work only with trusted suppliers, thanks to which all products are of high quality. To order a product, enter the product you are interested in on the website or visit our showroom in Warsaw. Call us, we are waiting for you!
Frequently asked Questions