Eyelash brushes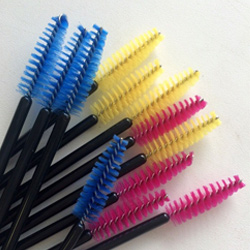 Every day we girls put in a lot of effort to be on top. In the image, everything is important, so we conscientiously paint the cilia or build them to give the look mystery. But most often the cilia can get confused or stick together, and here a special brush comes to the rescue . With its help, in a few minutes you can comb your eyelashes, remove excess mascara and shape them beautifully. This is not the only area of ​​application of this brush for washing eyelashes, because it is great for modeling eyebrows or removing dried henna from eyebrows. The brush for detangling eyelashes and eyebrows is also a great tool for applying mascara or separating eyelashes.
It has synthetic stiff fibers arranged in a spiral similar to a brush in mascaras and mascaras. The spiral made of nylon bristles is completely anti-allergic and allows for comfortable use.
The spiral tip is durable and does not damage the eyelashes. Often added as a free gift to clients after the eyelash extension service. Each of the accessories is equipped with a comfortable, short handle, thanks to which it fits well in the hand, significantly increasing the comfort of use and enabling free, confident and precise movements.
What is an eyebrow brush used for?
Microbrushes are designed for spot application of special liquids such as: degreaser and degreaser. They help save the product because they do not absorb excess liquid. This accessory is great for eyelash extensions. The baby brush is great for applying semi-permanent mascara or for tinting eyelashes. This tool is reusable and can be used up to 20 times.
A brush for cleaning eyelashes for eyebrows and eyelashes is one of the main assistants of girls in the pursuit of an expressive look. This accessory should be in every woman's cosmetic bag, because it can also be used to apply oils and preparations that regenerate eyelashes and eyebrows.
Errors in eyelash extensions
Very often on the Internet you can read customer reviews that after stretching they cannot comb their cilia or feel discomfort when wearing them. All this is the result of improper eyelash extensions. Let's take a look at some of the mistakes masters make when building: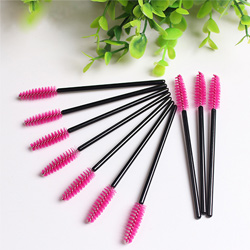 Many masters use only one tweezer to build. What does it look like? The master takes the artificial eyelash with tweezers, dips it in glue and sticks it to the natural eyelash without separating it from the rest with other additional tweezers. Because of this, all cilia stick together. As a result, after a few days, the eyelashes simply fall apart into separate pieces that stick out in different directions. Each person's eyelashes must be constantly updated, and if they are filled with glue, there can be no talk of any renewal. As a result, new cilia will not be able to germinate.

The master does not indent 0.5-1 mm from the eyelid, gluing the false eyelash. According to the technique of eyelash extensions, eyelash glue should not get on the skin. If the extension procedure is not done correctly, the client will feel discomfort because the eyelash is stuck to the eyelid and will pull on the skin.

The master spent less than an hour on the client. High-quality eyelash extensions cannot take so much time. On average, the extension procedure is delayed by 2-3 hours. A quick extension is unlikely to delight the customer.

Use of low-quality products in construction. You should not save on building materials, it is better to buy more expensive tools and materials, but remember about their reliability. Buying low-quality products may cause an allergy in the client or the client does not spend more than a week with your work.

The master incorrectly attaches the eyelash or uses the wrong glue. As a result, the duration of the procedure is shortened.

Gluing eyelashes is considered the most important and main mistake. Each time at the end of the procedure, check if there are no glued cilia. To avoid such work, you must do everything at once. Once allowed to stick, the cilia immediately look messy. The effect of thick eyelashes, expected by all clients, is instantly lost.
Don't make these mistakes in your work. By performing qualitative eyelash extensions, the number of clients will undoubtedly increase every day.
How to buy an eyebrow and eyelash brush?
Want to buy an eyelash cleaning brush? Then the TUFISHOP online store is at your disposal or visit our store in Poland in Warsaw. To buy an eyelash brush at Tufishop, just leave an inquiry on the website or place an order by phone. After specifying the order details, we will send your order in the most convenient way. You might also be interested in: adhesive glasses, eye patches and adhesive tape. Free shipping from PLN 200 throughout Poland. We work only with trusted suppliers, thanks to which the quality of the goods is at a high level. To order, call one of the numbers indicated on the website or come to our showroom in Warsaw. Call us, we are waiting for you!
Frequently asked Questions