Eyelash extension tools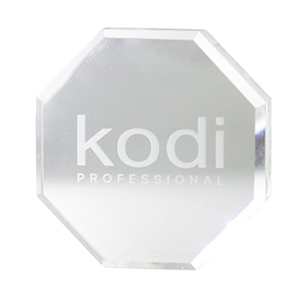 At the moment, eyelash extensions are quite a popular procedure. A good master has no end to female clients who want to have an expressive look from under chic eyelashes. Thanks to this procedure, the time spent at the mirror is significantly reduced, because it is no longer necessary to apply several layers of mascara every morning.
In our store you can buy everything you need for the procedure of eyelash extensions . The most important thing that we offer is only high-quality products that do not cause irritation and allergies, and these indicators are very important when building eyelashes.
Glass for glue - a handy accessory for the master
Eyelash extensions are almost a jeweler's work that requires precision, care and speed. Each master should have a special inventory that makes his work more comfortable. It is to such inventory that glue glass belongs. Indeed, when working with glue , it is very important not to let it thicken or harden too quickly. It is for this that the masters use special glass . Glass for glue for building is necessary so that the material thickens more slowly and is more economically consumed. Glass must be constantly cleaned, for this you can use nail polish remover , in which you should soak the glass, and then clean off the remaining glue.
Pros and cons of eyelash extensions
Eyelash extensions look spectacular and very beautiful, but as in every beauty procedure, both positive and negative sides can be distinguished.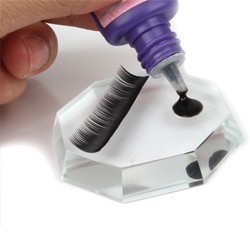 Positive sides. Of course, the most important plus that you simply cannot dispute is a chic look that enchants many. With extended cilia, the eyes will become more expressive and charming. In addition, with the help of eyelashes, even the shape of the eyes can be corrected. For example, narrow eyes can be made more open, and bulging eyes can be narrowed by using longer cilia. After the extension procedure, you no longer need to wake up early every morning to make up your eyes with mascara, even without it, the cilia will always look charming. Having made such cilia, you will save time both in the morning for applying makeup and in the evening for removing it.
With extended eyelashes, it is not scary to swim in the pool, visit saunas and baths, as there will be no smudges, as is usually the case after using mascara. You will also not need to use eyelash curlers , the cilia immediately have a beautiful elegant curve. Eyelash extensions are a completely safe procedure, since all materials are considered hypoallergenic. Glue and resins dry in a few seconds without causing irritation and redness of the skin.
Another plus of eyelash extensions is a large selection of materials. Today there is simply a mass of various eyelash extensions . They differ in shape, size, color. For creative girls who are not afraid to experiment, you can buy eyelashes with feathers or rhinestones. In our store there is just a huge range of eyelashes, as well as other materials that are necessary for the procedure.
Negative sides. There are also disadvantages to this procedure. Find a good master! Poor-quality eyelash extensions can damage the eyelashes, after removing the extensions, natural eyelashes will look, to put it mildly, not very good. That is why you need to trust eyelash extensions only to professional masters.
It is also worth remembering that such cilia need care. You can not rub your eyes, especially you need to be careful when washing. You also need to sleep carefully, do not rub your face against the pillow. When caring for the skin of the eyes, as well as when removing makeup, you should not use greasy creams or oils, as they negatively affect the glue that holds the cilia.
In some people, you can observe an allergy to glue, the eyes turn red and the skin around them too. It is believed that all building materials are hypoallergenic, but there is very sensitive skin, which is subject to allergies. If you are the owner of just such skin, you should not immediately carry out the extension procedure completely, stick a couple of cilia and walk around a bit, see what the reaction will be. For those who wear contact lenses, there are also disadvantages - they will have to do eyelash correction more than once a month. The fact is that extended eyelashes fall out constantly when removing and putting on contact lenses. It is also not recommended to build cilia for those who have their own cilia rather fragile, since the process of their recovery after removal can drag on for a long period of time.
What conclusion can be drawn from the above. Like all cosmetic procedures, eyelash extensions have their pros and cons. If you decide to increase eyelashes, do not do it at home on your own, find a good master. Pay special attention to the materials used during the procedure. Thanks to this, you will avoid unpleasant effects in the process of extension in the form of irritation or redness of the eyes and you will enjoy your eyelashes for a long time.
How to buy glass for building?
In order to buy glass for glue in Tufishop, you need to place an order on the website or by phone. After, we will deliver your order in the most convenient way in the shortest possible time. The Tufishop online store delivers in Kiev and throughout Ukraine, there is also international delivery. You may be interested in such products: patches and adhesive tape under the eyes , brushes , eyelash extensions , glue and others.
Frequently asked Questions