Eyelash extension removers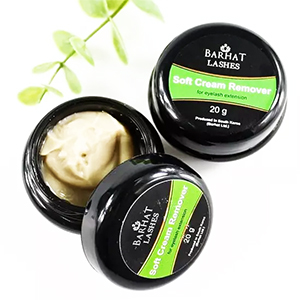 To be beautiful is the dream of every woman. The easiest way to do this is to give expressiveness to the eyes with the help of false eyelashes . They will help to make the look bright and undoubtedly everyone around will pay attention to you. But unfortunately, after some time they will have to be removed here and a high-quality debonder will help you, allowing you to remove artificial cilia. Tools for removing eyelashes should be in every master.
What is a debonder?
Debonders are a special liquid that can be used to dissolve the glue used to attach artificial eyelashes. For those who decide to buy a debonder , it will be much easier and easier to remove artificial hairs. This eyelash remover should be chosen correctly. What are the secrets worth knowing to choose the right eyelash bonder?
When buying a debonder for removing eyelashes, you should know exactly how to choose a high-quality and safe product. Otherwise, you can not only experience a number of difficulties in the process, but also lose your natural eyelashes:
ask for advice from the master who carried out the extension. It is better for him to know what means the glue used will dissolve;
choose a product of such a consistency that suits you perfectly. Eyelash removal can be done using a special cream or paste, or you can buy a gel eyelash remover that gently removes glue;
pay attention to what the eyelash remover or debonder consists of. Acetone, which is part of the product, burns the mucous membrane of the eye, but natural oils, on the contrary, are useful and nourish your natural eyelashes;
the price of the remedy is also extremely important. By purchasing inexpensive debonders in our TUFISHOP online store, you will receive a high-quality and safe product with a high degree of efficiency.
How to remove eyelash extensions at home
For quick and high-quality removal of eyelashes, you can use a debonder . It can easily be used independently at home if you do not have time to visit the master. Debonder is able to dissolve the glue in a few minutes. It does not cause allergies, irritation, it can be used even by pregnant and lactating women.
This tool can be called the most aggressive for removing eyelashes, but despite this, it is used very often at home. Its price relative to other products is not high, and a tube is enough for a long period of time. When removing eyelashes with such a tool, you need to be very careful so that it does not get on the mucous membrane of the eye.
before the removal procedure, you need to remove makeup from the eyes and moisturize them;
put either patches or adhesive tape on the lower eyelid;
using a cotton swab, apply debonder on the cilia starting from the outer corner;
after a couple of minutes, try to separate the extended cilia from your own;
after removing the eyelashes, you need to wipe the eyelid well with a cotton pad, removing the remnants of the product;
you also need to treat the area around the eyes with an alcohol-free degreasing lotion.
In addition to the debonder, for quick and high-quality removal of extended eyelashes, a lot of other means are also used, for example, a remover.
This tool, unlike the debonder, is softer and more delicate. This is an ideal purchase for people who have very sensitive skin. You can buy an eyelash remover in the form of a gel, lotion, cream. The most convenient gel to use - it does not spread and is very convenient to use, although cream remover is considered a more gentle remedy. One disadvantage of such a tool is a rather high price.
Removing eyelashes with a remover is very simple, you need to follow exactly the same points as when working with a debonder. It should be noted that the remover not only qualitatively removes extended eyelashes, but also takes care of natural ones.
Also, if you urgently need to remove eyelashes, and you don't have a debonder or a remover at hand, you can use oil. Each oil is effective in its own way and has useful vitamins and properties. The main thing is to choose natural oil. It will help to quickly and reliably remove extended eyelashes, as well as provide care for natural cilia.
Castor oil is considered the most popular option for removing eyelashes , but jojoba oil is ideal for further care.
Eyelash restoration after extension
All girls are puzzled by this question after eyelash extensions, since their cilia, of course, lose their former attractiveness and they need a little time to recover. You can buyeyelash care products from us at very competitive prices.
The most optimal eyelash care products:
Castor oil . As an eyelash care product, it has been used for a very long time. Daily application of the product half an hour before bedtime will strengthen them and make them more shiny.
Oily arrogance. Such a mixture consists of mixing different oils, such as: peach, almond, castor and burdock. It also needs to be applied to the cilia every day if you want to achieve any result.
Revitalizing mask. To prepare it, you need to mix a little castor oil, burdock oil, add aloe juice there. It needs to be used only a couple of times a week, but the course should last for a month and a half.
Where to buy eyelash removers?
If you need eyelash removers, you should contact our online store TUFISHOP . We have everything you may need for eyelash extensions: false eyelashes, eyelash extensions, tweezers , degreasers and much more. We ship goods not only in Ukraine but all over the world. We work only with proven suppliers, so that all goods have only the best quality. If you do not know which product to choose, our qualified managers will always help you with the choice. Contact us!
Frequently asked Questions