Glue for eyelashes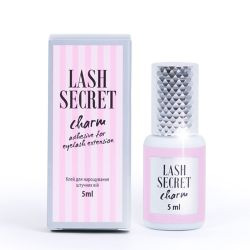 All girls want to look beautiful and attractive. With the help of tufts of eyelashes, you can get an amazing effect of lush and mesmerizing eyes. However, it would not be possible without a good eyelash glue. Today, eyelash extensions are very popular. With their help, you can achieve a beautiful expressive look that will not leave anyone indifferent. Of course, special materials and tools are needed to carry out the eyelash extension procedure, such as: eyelashes, their selection depends on what effect we want to achieve, tweezers, eye patches, additional glass for glue, microbrushes and, of course, eyelash glue.

Glue for eyelash extensions is one of the most important materials needed for eyelash extensions. Both the appearance of eyelashes and how long they last in their original form depends on their composition and quality. If you can still save money when choosing eyelashes, but the eyelash glue must be of the highest quality.
What is eyelash glue?
Glue for eyelashes can be of several types - transparent and black, liquid and thick consistency. Black eyelash glue is basically a resin that holds black eyelashes together. Adhesives for false eyelashes are used to decorate ready-made artificial and colored eyelash extensions. Thick glue or medium-density glue, as a rule, is of poor quality and is used by low-skilled craftsmen. You can judge the professionalism of the master by the consistency of the false eyelash glue or eyelash lamination glue. In addition to the density and quality of the glue, an important factor affecting the durability of false eyelashes and the comfort of the hostess herself is the hypoallergenic nature of the glue. High-quality glue should be made of non-toxic materials and should not contain chemicals that will irritate the mucous membrane of the eye and respiratory tract.
And one more important detail - when buying glue, pay attention to the fact that its lid is tightly closed and has a protective shell. The shelf life of an open tube is significantly reduced.
Eyelash glue can be stored in the closed state from 6 to 10 months, after opening 2-4 months. It must be stored in a dry and cool place. If you have adapted to store eyelash glue in the refrigerator, do not forget to take it out at least an hour before the procedure. After you have used the glue, it is worth carefully cleaning the neck of the residue and screwing the glue cap tightly. Masters have plenty to choose from, because manufacturers offer a huge variety of adhesives.
for those who have been engaged in eyelash extensions for a long time and are confident in their professionalism, instant fixation glue is ideal;
for beginners - special glues that dry more slowly and thus provide enough time for the master to correct an unsuccessfully glued eyelash;
Basic rules for using eyelash glue
When eyelash extensions, special attention should be paid to the glue and the technology of its correct use. Incorrectly selected or wrong glue can cause irritation or an allergic reaction in the client. Otherwise, there is eyelash glue for allergy sufferers. Thanks to anti-allergic eyelash glue, you can safely perform the procedure and leave a satisfied client. To prevent this, follow the simple rules of using eyelash glue.
The correct conditions must be met in the office. The optimum temperature in the room where you use eyelash glue should be 20-22 ° C. The room must be ventilated and of course clean.
Eyelash glue should be stored in a dry place so that moisture does not get on it, and sunlight should also be avoided. Do not store this product in the refrigerator. For storage, you can use a thermal bag, it will also be a good helper when transporting glue.
The tube must be stored in an upright position. Incorrect storage may cause the adhesive to leak out or its working functions to be impaired.
Change eyelash glue kodi in time . With proper storage and use, the product can be stored for 2 months; in the summer, the shelf life after opening the tube is reduced to 6 weeks.
When building eyelashes, it is advisable to renew a drop of glue every 20 minutes, which you initially applied to the glue glass or other surface. This gives better adhesion of the artificial eyelash to the natural one.
Wipe the bottle spout with a tissue. After using the glue, be sure to wipe off excess glue on the spout with a napkin. This is necessary so that the glue does not dry out and flows well from the bottle during the next procedure.
Where to buy glue for eyelash extension?
Do you want to buy the best professional eyelash glue? Then the online store https://tufishop.com is at your disposal or visit our store in Poland, which will open on November 30, 2022 in Warsaw. The products presented in our store are of high quality, and most importantly, at an affordable price for everyone. We send goods not only to Ukraine, but to the whole world. In our store you can buy a variety of products: everything for nails, depilation, disposable products, everything for sterilization. We work only with trusted suppliers, thanks to which all products are of high quality. To order a product, enter the product you are interested in on the website or visit our showroom in Warsaw. Call us, we are waiting for you!
Frequently asked Questions