Patches and tape under the eyes
Patches and tape under the eyes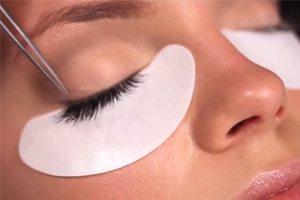 Beauty will save the world, and every woman strives to take care of herself and her beauty. Nowadays, the eyelash extension procedure has gained immense popularity, and this is not strange, because every girl wants to have expressive eyes. When building eyelashes, the master must have in his arsenal not only the necessary materials and tools, such as eyelashes , glue , tweezers , but also special equipment. It includes patches and adhesive tape under the eyes , glasses , brushes . In this section, you can purchase sponge patches , lint-free gel patches , as well as adhesive tape .
Sponge patches are used for procedures such as eyelash dyeing , with their help, the lower eyelid is protected from paint ingress. Lint-free gel patches are used in eyelash extensions, they also fix the lower row of eyelashes and prevent them from sticking together. Collagen patches perfectly moisturize and nourish the skin. Using adhesive tape for eyelash extensions , the lower eyelid is fixed, and the cilia do not stick together during extension.
How is the eyelash extension procedure performed?
The eyelash extension procedure should only be performed by a professional master. Before you grow cilia, you need to decide on the length of the cilia. A good master will always offer the type of eyelashes that suits you, your shape and eye shape. For everyday wear, medium-length lashes are usually used, but slightly longer at the edges. If the eyelashes are built up for some kind of holiday or party, you can make them longer, but you always need to know when to stop.
The extension process begins with the fact that the master removes all makeup from the eyes, then degreases the cilia. For extensions, eyelashes are selected, tweezers, glue and patches under the eyes are used.
There are two types of eyelash extensions, beam and eyelash.
Beam extension. Initially, there was only this type of extension, the master, using tweezers and glue, glued bunches of artificial eyelashes to natural ones. Each bundle included 3-4 cilia. This procedure is faster than eyelash extension. But such eyelashes also look less natural. Such eyelash extensions are most suitable for any celebrations, and not for everyday wear. Correction of beam extensions should be done much more often, since the loss of one natural hair leads to a shortage of a whole bunch of artificial cilia.
Eyelash extension. Such an extension is worn longer than a beam extension. If the master did the procedure correctly, then with such eyelashes you can go through about two months. The scheme of such an extension consists in attaching one eyelash to a natural hair. This procedure will take more time than beam extension, but the result is worth it. With the loss of one eyelash, the result remains the same, it is not as noticeable as with the loss of a whole bunch. Such cilia, if necessary, can be tinted with mascara.
Each girl chooses for herself which eyelashes to increase. Summing up, from the foregoing, we note that beam extensions are more suitable for special occasions, while eyelash extensions are ideal for everyday wear.
How to use eyelash patches correctly
When installing them, hold them with two fingers on the edges, at this time you need to watch the roots of the lower eyelashes. Very often, eyelash patches lift up to the mucous membrane when you close your eyes. After completely closing the eyes, you should carefully check if the patch has moved under the upper eyelid, and also if it touches the mucous membrane of the eye. If you close your eyes and the eyelash extension patch is a little in the way, you need to lift the outer edge towards you and move it to the right place. Do not be afraid to hurt because you will not feel any negative sensations. Feel free to do what you need to do.
What is better to choose adhesive tape or silicone patches?
Very often masters are faced with this problem. What is the difference between silicone eye patches and adhesive patches :
adhesive tape under the eyes , suitable to a greater extent for experienced craftsmen who are completely confident in their skills. This is because when removing, problems can arise. Especially if you carelessly touch the adhesive tape, there is a huge chance that you can pull out the lower eyelashes. Experienced masters easily use this attribute for eyelash extensions.
silicone patches - are considered to be of higher quality, and of course they have a higher price. Eye patches that you can buy in our store have the advantage that they are very easy to remove and simply fix them in the desired position. And at the same time, all the useful substances contained in patches under the eyes moisturize and fight wrinkles.
In order to buy eye patches for eyelash extensions , you must leave a request on our website or place an order over the phone. In our online store you will also find a lot of tools and materials for eyelash extensions such as degreaser, debonder, tweezers, eyelash and eyebrow dye and much more. We have only high-quality products at affordable prices for everyone.
Frequently asked Questions